Reviews
Teany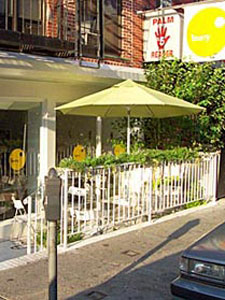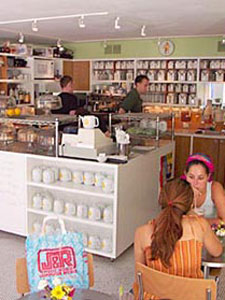 [TEAROOM ID=668]

It's a good thing that Teany is open from 8 am to 1 am. For there must be a point in the day when the place is quiet and smokeless; in other words, tearoomlike. And someday I hope to encounter it. And then I will be one happy teadrinking camper. For now, however, I plan to visit it again in a company of a chatty companion. Or on days when cigarette smoke may not bother me as much.

Teany is a new place, in a small space, and there's much to delight in. And is a worthwhile visit, despite its shortcomings.

As you step down into the tea room proper, there's a small seating area with 4 tables and tremendous window boxes. The room is light and sunny; the tables are round and metal; there's a banquette against one of the walls.

The bathroom is among the nicest I have ever encountered, so please pay it a visit. It's painted a neat yellow. On the shelf above the toilet there's a nice hardcover book by Ricky Jay that I hope never gets stolen (the jacket price read forty bucks!) and a flickering candle. And what smells like Dr. Bronner's castille soap in the dispenser. All in all, a pleasant décor of the sunny modern type.

The care so clearly on display in this area is nicely matched by the attention that's given to food, tea and other beverages. All of which makes me just a little sad that at this precise moment someone seated at the next table decided to light up. And put an end to my enjoyment of a nice cup of pu-erh tea.

A pu-erh? you ask. Isn't that that interesting musty tea that is fermented twice over in monasteries and is way too hard to find in most tea rooms? Yes-the very one. Teany offers it in both loose and cup (cha) form, along with either 90 or 91 other kinds of tea (a copyediting error made it difficult to know which it was exactly; and though five of these were more fruit teas than teas proper, it was my day off copyediting so I am not going to make a big deal out of it). They not only have white tea (about four kinds), they also have flavored white tea (peach). They have a good assortment of black and flavored black, Chinese and Japanese green teas (and flavored green tea); they even have one tea just for kids, made of fruit but without any essential oils. I mean, really. This place knows their tea.

The staff is hip but attentive (though I would quibble that they put a bit too much pu-erh in my teapot). The tea is served in thick white teapots with Teany logo on the side, and - this is really impressive - they give you a little teapot-shaped dish (there is a technical term for this but I am not obsessed so I am just going to describe it) to hold the bag (Agatha's Bester, if I am not mistaken, a nice long mesh sash) when it's done steeping. Prices range from $2.50 to $6.50. Also available are an array of iced tea drinks, hot and iced coffees, wines, and juice/tea blends.

And the food menu is impressive - light fare priced accordingly, reasonable for New York (cheap even, if ordered with a frugal eye). My meal-the $9 Middle Eastern platter: hummus (fair), babaganoush (good) and tabouleh (excellent) with olives, cucumber and tomato (more, please)-was, all in all, quite yummy. The desserts, some of them vegan, looked tremendous, but I was virtuous.

So what is the deal with letting people smoke here? I don't mean to sound like an anti-smoking fascist, but the fact is, tea is an experience that has to do with smell as much as taste. And it's a small room; and we're not in Europe. Meow, meow, but I was so pleased with the number of teas available, and the care with which they were described on the menu. Since it's a new place, I'm hoping that Teany may consider modifying its smoking policy, at least in the summer months, when people who want to smoke can easily sit outside.

All in all, though, Teany is a most welcome addition to the New York tea scene. When visiting lower Manhattan, this is a worthwhile destination to add to your list.