Reviews
Guo Xian Tea House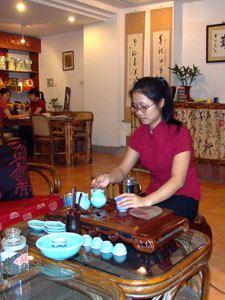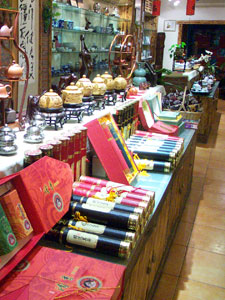 Shamien Island
Guangzhou, China
Stumbling upon the Guo Xian Tea House is a nice reward for taking a stroll around Shamien, the old colonial quarter of Guangzhou, once known as Canton.
The teahouse is a tranquil oasis that is a welcome respite from the hustle and bustle of what is modern Guangzhou.
The staff is superbly attentive, and completely dedicated to the proper service of tea. In fact, I happened to walk in when the entire service staff were instructed in the art of making a perfect cup. They immediately jumped up and were quick to help. I didn't want to intrude and returned with a friend later in the day.
The teahouse is situated in an old colonial building, and occupies the bulk of the ground floor. Bamboo furniture, and the tranquil sounds of a fountain add to a serene and peaceful atmosphere.
The menu book, entirely in Cantonese, except for a few pages in English, is a beautiful presentation of nicely bound paper with a wooden cover. It is a nice prelude of the artistry to follow.
The tea is served at your table, with much skill and artistry. We had selected the White Needle tea, and were treated with many cups of a superbly made tea, full of fragrance and sweet notes this white tea is justifiable famous for.
The tea was prepared in a gaiwan, and our tiny tea cups were properly refilled when empty. Of particular interest was the fact that neither a timer, not a water thermometer was employed. And yet each cup had the amazing consistency of the one prior, and were simple perfection.
While our server was diligently focused on serving cup after cup of superbly made tea, her friends were happily observing from another table nearby, carefully noting that all steps were carefully followed, and the result produced both smiles and affirmation. Both were served up in spades.
The bill came to 90 RMB, about $11. Outstanding tea and warm hospitality are rarely found at this price. A highly recommended stop on a possible China itinerary.