Reviews
Dobra Cajovna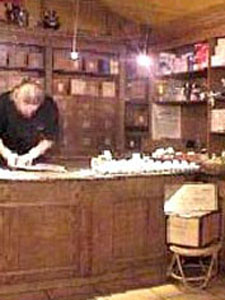 Dobra Cajovna
Vaclavske nam. 14, Praha 1
http://www.tea.cz
One of Prague's main attractions is its carefree, bohemian spirit. Dobra Cajovna nicely encapsulates its best features.
Despite its central location, it's not easy to find. Among the many signs fighting for your attention in the city's most bustling square (Vaclavske namesti), one must spot an inconspicuous one atop a small arch. Duck inside, and you will find yourself in another world.
What unfolds before you is a peaceful courtyard, its silence punctured only by the melodic Eastern music emanating from a door in the back. Spaced throughout are tables with wooden umbrellas in the Chinese style. The tables are an interesting creation: round plates of glass atop wooden chests used to transport tea, colorfully decorated with original markings, which add a nice touch of authenticity. Other decorations include a Buddha statue, live orchids, and aroma sticks.
Stepping inside the door, you enter a cozy teashop, offering many teas, tea utensils, and many books about tea. The tea sets are really interesting and one may spend many a joyous minute playing around with them.
Proceeding further, you step into a cozy tea room with carpets covering the walls and floor, containing small tables, lit with candles and infused with the scent of aroma sticks. When the tables fill up, the atmosphere is so casual, that most patrons kick off their shoes, and grab a comfortable spot on the floor.
Once seated, one is presented with a menu that resembles a weighty novel, and a bell to summon your waiter. Turning the pages of the menu, one is delighted by a plethora of tea choices, from all corners of the tea world: China, Japan, Nepal, etc. As well as information on the history of tea, and advice on how and when it's best to enjoy it.
I chose Pi Lo Chun (blue-green tea, with a tender "spring" flavor), and my companion selected Long Jing (green tea, very refreshing). Each was 75 Czech crowns (about $2). Each tea was delivered in a very stylish set, with an extra pot of hot water with a candle placed underneath to keep it warm. Despite the light color, both teas were very flavorful. And had kept us alert during the duration of our stay.
Additionally, there is a list of food items to go with your tea. I chose pita with sweet cheese, raisins, cinnamon, and orange nectar. My friend selected a pita with cheese (38 Czech crowns, about $1 each). Both just melted in the mouth, sooo good.
It's quite difficult to reach Dobra Cajovna, and a free table is almost impossible to locate, at any time of day. But the next time you're in Prague, try hard not to miss this wonderful experience.