History
Teapot Evolution: Seeing Today's Teapots Clearly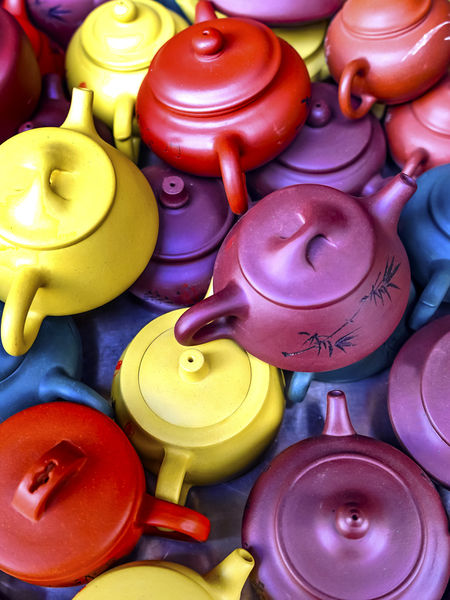 For those of you plunged into the hurly-burly of too much to do, take note. A tea vacation once a day is as powerful as the deepest meditation practice. Try it. And, may we suggest, use a teapot that adds to the pleasure of holding it, pouring from it, keeping the tea hot and flavorful.
We avid tea drinkers know something important: It's essential to pull down the treasured teapot and have a tea vacation … every day! Taking the time to choose a tea to suit your mood, prepare it with attention, and brew to the clock means the liquor in the cup will be beautiful and satisfying. Time spent? Ten to 15 minutes. Think of it as an investment in your good health.
A LITTLE BACKGROUND
Tea wasn't always prepared in round-shaped, elegant porcelain pots. The beginning of tea preparation in China was unrefined, inelegant yet highly functional. It first began with iron cauldrons brewing ground tea leaves with water then segued to bronze or iron kettles of boiling water brought to tea bowls. The basics remain the same: boil water, add leaves, brew then sip. Fortunately for us all, tea preparation utensils have evolved with refinement. In fact, teapots and cups are often considered fine works of art. You can discover entire books that trace the evolution of the teapot, but we're going to provide a succinct synopsis then introduce you to contemporary innovations of teapot design.
China provided two stellar contributions to the creation of the teapot: Yixing pots, made of a purple clay that is unglazed inside and out thus providing terrific heat retention. It also retains the flavor of the tea, so one should always dedicate a Yixing pot to one kind of tea.
The second contribution was the development of a vitrified porcelain of a refined clay that made it strong enough to avoid cracking when hot water filled it yet translucent enough to be quite beautiful and take decorative painting that elevated it to a work of art.
EUROPE GETS INTO THE PORCELAIN TEAPOT ACT
The Brown Betty, Great Britain's go-to daily teapot, reflects the very classic round look of early Yixing pots, and also uses a similar red clay with exceptional heat-retention properties. It is, however, glazed inside and out so the flavor of tea does not get absorbed by the clay of the pot. Created first in the 17th century, it remains a household staple in the 21st century.
Meissen of Germany (which further developed vitrified porcelain in Europe,) Wedgwood, Belleek, and many other manufacturers in Great Britain, Lomonosov of Russia, and Limoges and others in France have, for centuries, provided an incredible range of fine porcelain teapots and cups that many collectors believe is worth investing in for long-term value, and for their beauty, which adds to the enjoyment of their tea drinking experiences.
BACK TO METALS
Silver was a hugely popular metal for teapots on both sides of the pond, (think Paul Revere) leading to quite decorative and artful designs from the 18th century to today where most silver teapots are quite sleek and sophisticated in comparison to the rather ornate Baroque designs of previous centuries. Most silver tea sets included both a coffee pot and a teapot, and often, a warming pot. The debate still rages whether or not metal impacts the flavor of the tea.
In Japan, Korea, and China, metal warming kettles are still being used. The tetsubin teapots of Japan, even today, are perfect for holding hot water although their weight is significant and requires careful handling. It is probably wiser to use it for hot water to pour into a waiting porcelain teapot. Should you use your tetsubin for brewing tea, make sure your pot is glazed inside. Iron is definitely not a positive flavoring for tea. Many manufacturers offer small individually-sized tetsubin which make them easier to handle yet offers the same heat-retention properties and also come in a variety of whimsical designs.
Both Korea and Japanese provide ceramic teapots with side handles versus handles opposite the spout that makes pouring quite functional.
GLASS IS CLEARLY CONTEMPORARY
The most elegant and charming modern addition to teapots has been glass. It not only brews the tea well, it offers entertainment: one can view the leaves circulating and infusing the water. Or, one can use a filter inside the pot, or in the cup to filter out the leaves. Straight-edged sides or bulbous shapes, the glass teapot is a delightful addition to the tea table, along with clear glass cups with show off the soft grassy colors of green teas or the wide range from orange to red to mahogany of oolongs and blacks and the occasional flower or fruit pieces used to flavor some teas.
Glass does break, however, and some retains heat so well, it requires great caution to avoid touching it and burning fingers or hands.
But, a solution is at hand: Borosilicate glass.
First used for industrial applications, Borosilicate is made by combining silica sand with boric oxide/trioxide, soda ash, and alumina. This results in low thermal expansion which makes it resistant to breakage or heat vulnerability. It's been hugely popular for research labs that use tubing and beakers, and in a variety of other industrial applications from electronics to lighting fixtures to optics and windows, and even beads for industrial or decorative applications.
Borosilicate glass is more complex to make than traditional glass because of the high melting temperatures used, but ironically cheaper to produce. The result is a glass that is highly durable, and highly resistant to chemicals (hence its use in lab work) and heat-resistant. Borosilicate glass teapots, cups, and glasses are all microwave and dishwasher safe.
Most likely you already have one form of this in your kitchen: glass measuring cups (Pyrex, made in the US with a soda-lime glass) or cookware, like Corning products.
Most glasses made from Borosilicate are double-walled, making them particularly comfortable to touch, requiring no handles. (The Chinese porcelain handle-less cups come with the maxim: If it is too hot to handle, it is too hot to drink!)
Adagio offers a variety of Borosiliate glass products, one for every tea-brewing and tea-drinking experience.
HIGH-GRADE TRITON TEAMAKERS
Teamakers are different than teapots with their use of a mechanical valve element to extract the liquor from the leaves not unlike a French coffeepot performs. This is the perfect accessory for individual use, as it is simple to use, makes delicious tea, and cleanup is a snap. Made of Tritan, a 100% BPA-free plastic, it offers the same experience of watching leaves brew as glass does but with much lower risk of breakage than glass. It is also dishwasher safe.
BACK TO CERAMICS
One staple of teapot design, from the Victorian era to now, is the fantasy teapot. Perhaps inspired by Yixing pots decorated with fruits and animals, the Majolica teapot is ceramic, highly glazed, and always quite colorful decorations from natural items like fruits, flowers, and animals, or whimsical designs from bookcases, cakes, telephone booths and more. Highly collectible, they're not always totally functional but for the teapot collector, who could resist? /p>