Enjoyment
BLENDED TEA: DIY for Gifts and Just for Fun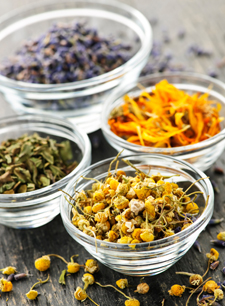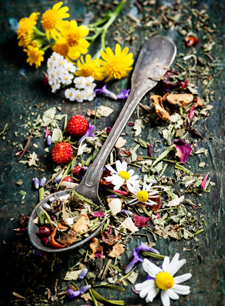 Tea merchants have been blending teas for centuries, adding scents, flavorings, spices, flowers, and fruits to oolongs, blacks or greens. In addition, they often blend several greens together or, most often, many blacks together, for their signature blends - sometimes up to 60 teas from around the world.
We're not suggesting blending 60 teas, but two or three can make a delightful palate pleaser and scenting teas with your favorite fruits, spices, or herbs makes a creative way to enjoy tea, and a spectacular gift idea.
No recipe is written in stone. Experiment! Taste! Re-blend. Share this terrific activity with friends, too. You might even come up with a signature blend to use as a fund-raiser for PTAs or other organizations.
To begin, blend in small quantities and adjust the proportion of flavoring to tea with each brewing until you achieve the perfect balance. A good starting point is 1/2 teaspoon of flavoring to 2 tablespoons of tea. If you use a scale, use .5 grams of flavoring to 2 grams of tea as a starting point.
When blending several teas together, start off with equal parts and adjust accordingly, emphasizing one tea over the other(s) as your palate suggests . You want a nice balance of astringency and softness, nose and flavor.
The equipment is right in your kitchen cabinet:

Small bowls.
Wooden tea scoops.
Measuring cup.
Measuring spoons. Or, food scale if measuring in grams.
Mortar and pestle. Best for crushing herbs and/or spices or use a wooden spoon in a bowl.
Container for the final blend like tea tins or glass jars.
EXTRAS: Gift tags, twine or ribbon, and gift or kraft paper bags, for gifts.
All flavorings should be natural ingredients or even better, organic. When in doubt, leave them out. And, remember, a little flavoring goes a long way.
TEA WITH TEA: Think in terms of sharp with soft, deep flavor with light bright taste. Your palate knows best, so have fun experimenting! Here are a few examples to get your creative tea blending juices going:

1 part Hojjcha with 1 part Darjeeling
1 part Ceylon with 2 parts Keemun (Qiman)
2 parts Assam with 1 part Nigiri
1 part Genmaicha with 1 part Sencha
1 part Genmaicha with 2 parts commercial breakfast blend
Black teas go well with dried citrus peels, dried berries, powdered cinnamon, chocolate, cocoa nibs or ginger or perhaps two of these! You can also put one vanilla bean or one cinnamon stick in a good quantity of tea, say 4-8 ounces, to scent the tea over a few days, or longer. Remove the bean or stick and brew the tea as you usually do for a delicately aromatic flavor. The cinnamon and vanilla bean can be reused as they last a long time.
NOTE: If you use sugar in your tea, adding either the vanilla bean or the cinnamon stick flavors the sugar. Can be kept in the sugar for up to two weeks. Remove and use sugar as you usually would.
CINNAMON ORANGE BLACK TEA
Blend 1 oz. Ceylon tea with 1 tablespoon minced dried orange rind*, and 1/8 teaspoon ground cinnamon in a bowl. Mix together thoroughly. Use 1 teaspoon of the blend to brew with under boiling water for two to four minutes. Taste. Adjust the proportions accordingly, then make a nice quantity of this. Delightful for holiday gift giving and a great afternoon tea blend.
*Remove white pith from orange rinds, Place in a bowl and air dry at least 24 hours. Mince to use. Rinds from grapefruit, tangerine or lemon are excellent flavorings, too. No time for drying the rinds? Freshly zested citrus peels are perfect additions when brewing.
Green teas love cherry, citrus zest versus peels, mint or rose petals but the operative word is to use a tiny amount. Crushed organic dried coconut flakes or a few speckles of fresh vanilla bean are fun, too. Use them directly into a pot or let them rest in the tea a few days to scent.
MOROCCAN MINT TEA
The North African classic is a perfect way to end a meal. Its digestive qualities are only enhanced by the aromatic use of mint. Use about 2.25 grams of Gunpowder green tea with .5 grams of mint or if using teaspoons, use 1/4 teaspoon spearmint or mint to two tablespoons of green tea. Scoop out a teaspoon of the blended tea and brew lightly at 185 degrees F. Adjust proportions accordingly. Peppermint, spearmint and mint are all delicious additives, but be forewarned. A little goes a long way. We strongly suggest organic selections for best taste and quality.
Oolong and Pu-erh are both delicious with silky flavorings like dried peach, nectarine, pear or mango bits, or with the classic chrysanthemum petals. A drop or two of maple syrup while brewing is delightful.
Rooibos is an herbal plant and can be blended with many of the flavorings one uses with black teas, like fresh or candied ginger, rose petals, cinnamon, dried or fresh fruits of all types or crushed coconut flakes.
HERBAL (TISANE) BLEND
Crush the roseships then blend 1/2 cup with 3 teaspoons dried lemon peel. Use 1 heaping teaspoon of the blended tisane per cup and brew with boiling water for three to five minutes. Adjust proportions as necessary. Recipe easily doubles or triples for gift-giving. A great energy boost if you're down with a cold. A little honey is a wonderful addition.
NOTE: Health food stores or herbal shops will have rosehips.