Tea in Art
Not Your Grandmother's Teapot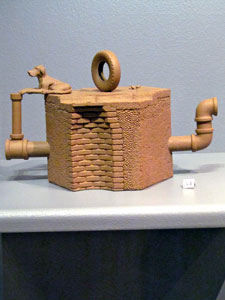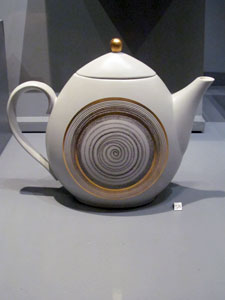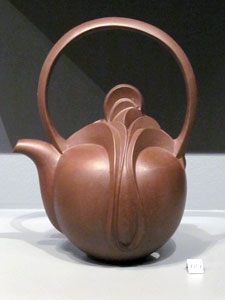 Newark, New Jersey, probably isn't the first place you'd think of when it comes to teapots. But the Newark Museum has a large decorative arts collection that includes hundreds of teapots in a variety of styles from the 1600s to the modern era. A featured exhibit is currently showing sixty-six teapots from the collection, and I stopped by one recent Saturday for a visit.
The exhibit information notes that for Westerners, the fashion of tea drinking only began in the 1600s, several hundred years after the Chinese were making teapots. Western teapots were primarily functional until the late 1800s. Eventually teapots as creative objects took hold, and in the last 60 years, some artists have elevated them into sculpture (which occasionally belies function).
"The Teapot" exhibit is set up chronologically, beginning with teapots from the 1700s in ceramic, porcelain and silver. Even the early teapots on display have elements of whimsy, like a stoneware one in the shape of a house, and an English earthenware pot with a marbling effect yet in a traditional Chinese shape. In the late 1800s, Trenton, New Jersey, actually became the U.S. center of fine porcelain production and began to compete with European porcelain producers, bringing luxury ceramics to more American tea consumers.
While there are some traditional style teapots being shown, I enjoyed the more offbeat ones. A Philadelphia pottery company in the late 1800s produced an earthenware pot in the form of a cauliflower, complete with green glaze for the leaves. A white porcelain Czech teapot plays with art deco elements and shapes. American Richard Notkin was inspired by Yixing teapots and the urban environment to create Curbside Teapot in stoneware, depicting brickwork, piping, and topped with a rubber tire. The porcelain Ampersand Teapot is a contemporary play on 18th century Chinese wine pots that were made in the form of Chinese characters. Another so off-color I can't even describe it here!
My favorites also had elements of the traditional. The "Roman Coin" patterned teapot (see photo) features modern design without being overly plain. A set of four Yixing teapots designed by Gerald Gulotta is my top pick of the exhibit, respecting the tradition of the Chinese clay teapots while bringing beautiful new elements to the design (see photo).
In addition to the ongoing teapot exhibit, a special display of silver and gold teapots from Tibet are being shown as part of the Newark Museum's Tibet Centennial exhibitions. While photos of the "Pots of Silver and Gold" were not allowed, some pictures are on their website, demonstrating two of the popular techniques in Tibetan teapot crafting, damascene and repoussé, as well as the use of mixed media in creating teapots.
While I am not a teaware collector, this exhibit shows that teapots don't have to be the stodgy, British high tea items that many people think they are. There have always been original, imaginative artists using the teapot as an art form, incorporating whimsy and humor, and the Newark Museum has put together a nice sampling of sculptural and functional art.