Profile
Cool Tea Company Alert: Damn Fine Tea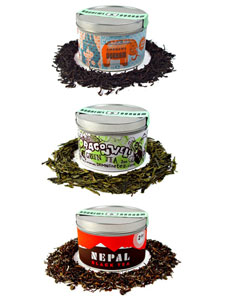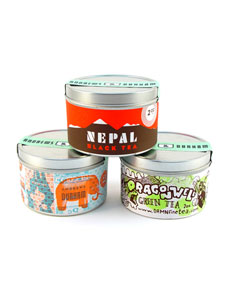 It was a cold February evening, and the party was hoppin' at my friends' apartment in Astoria. Many friends were gathered to celebrate anti-Valentine's Day; basically an excuse to drown out ones sorrows in alcohol. Amidst the party scene, I spied in the kitchen the various accoutrements- empty beer bottles, cake, snacks, and the like. My eyes wandered over the microwave and lo and behold I spied three small tin canisters, covered in some funky wrapping. It was tea, of course, it seems like I have an eye to spot whatever available source of tea there is at any given environment.
After some investigation(I even took the time out to put down my 40 to jot down the tea company's name) I found out that they were from Damn Fine Tea, or formally, Andrews & Dunham Damn Fine Tea. After looking up the company, Charles Andrews and Erik Dunham, the guys behind Damn Fine Tea were very kind enough to send me my own three-tin sampler of their teas. Their teas are offered in a sampler of three as well as on their own- Ceylon Black, Nepal Black Tea, and Dragonwell Green Tea.
Damn Fine Tea was a seemingly natural idea- Charles' had a tea blog, Charles'Tea House discussing all things tea. The pair figured that since they were talking about tea 24/7 that they should jump on the chance to form their own tea company in a sense to give something back to the tea community that they have integrated themselves into. The company went live in February and are based in Cheverly, Maryland, selling exclusively online, and in the summers they participate in their community outdoor market.
I am a bit of a sucker for good design, and it was definitely what caught my eye at first. I was under the impression that their labels were printed in-house by the owners or staff, but it is actually through a partnership with Minnesota-based design firm, Aesthetic Apparatus. When the idea to start Andrews & Dunham was developing, both Erik and Charles understood the need for a strong visual identity. They enlisted the help of Aesthetic Apparatus, wishing for an outsider's fresh ideas. My favorite is the Nepal Black tea label, which is reminiscent of vintage travel posters to exotic locales. The Dragonwell is kind of hip hop meets Slimer from Ghost Busters (which is a good thing) and the Ceylon label has a bit of Bollywood, Indian feel to it, very appropriate. The design firm Aesthetic Apparatus is also behind the designing of many other cool things like Criterion Collection DVDs and indie- rock album covers, so its safe to say Damn Fine Tea have brought the hip to the tea world.
With all this talk about outside appearances, one might think I have overlooked what really matters- the tea! Erik and Charles have confessed to being tea junkies (the only other passions at that level are football and rock and roll) Their love of tea and educating other on tea- the health benefits, types of tea, the difference that gourmet tea can bring to one's cup-was the reason behind starting Damn Fine Tea. Using what tea knowledge they had on hand, they attended the World Tea Expo for the past three years, collecting samples from many different suppliers and checking out tea blogs for recommendations. They also utilized their own taste-buds, as well those of their friends and experts, to whittle down the first three teas they offer on their website. The full leaf of the Ceylon, Dragonwell, and Nepal Black tea are exquisite and full of flavor. Each tea tin comes with instructions on how to prepare the perfect cup. My favorite tea is the subtle and bright Ceylon tea, which I like hot or iced- simple and perfect, with a nice mellowness.
The three teas they offer can be purchased separately (nine dollars for a 2 ounce tin), or as a series of three (twenty-five dollars). The teas themselves are a limited edition, and after the 400 tins of each variety are sold, that's it! Damn Fine Tea is unique in that unlike other tea companies, it doesn't offer many varieties, flavors, or any kind of accessories that go along with taking tea. It's pure simplicity and a very cool kind of branding that allows them to create the anticipation for the second series.
Andrews and Dunham are currently working on Series Number Two. I can imagine the many tastings that they are doing, and that they are probably enjoying each and everyone of them. These teas make a perfect gift for the hardcore tea connoisseur with an eye for design and art. I'm waiting in anticipation to what they will offer next and what designs will don their tins!
Stay in the loop by following them on their blog on their website (their blog and their way of writing will bring a smile to your face- they are hilarious) Damn Fine Tea and on their Twitter.com/damnfinetea