Enjoyment
Monthly Musings January 2009
Happy New Year, Tea Lovers!
Yet another year has come to an end. I hope everyone ushered in a safe and happy New Year with the ones you love! If you had a little too much fun during New Year's Eve festivities, make yourself a cup of Rooibos and relax! Plenty of time to make resolutions and other seemingly mandatory lists later.
Now that the holidays are over, it's time to relax and enjoy the cold weather with your favorite tea. Maybe some of you received some great tea gifts this past holiday season, so break them out and use them! If you find yourself inundated with too much tea (is there ever enough?) check out the main article in this months newsletter on quick steps on how to organize your stash. I've become a bit of fiend for organization, so hopefully it'll help!
With another year ahead of us at Adagio, we have our projects and much to look forward to. We hope to launch the much tinkered with TeaCritic.com, a blind taste-testing site manned by TeaChat's finest and other tea bloggers. It basically will match up samples of the same tea from different companies against each other to see who's tea reigns supreme! It should be an exciting and insightful site so keep an eye out for it!
Another year promises new products, we here at Adagio are always looking for new flavors and products to offer. We have some interesting flavors and varieties up our sleeves and we hope to offer them this year. Savory? Floral? More types of chai? Who knows! Always feel free to send in your suggestions to info@adagio.com - we always appreciate any that we receive; after all you are the customer!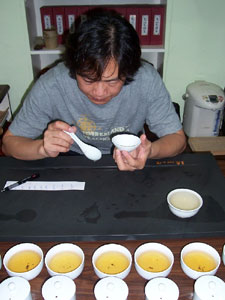 One of our most notable successes of 2008, is our Signature Blend feature on our website. You all have participated to make it a big hit! Over three thousand (THREE THOUSAND!) blends have been created, always accessible through the creator's name. Thank you for being creative with your blend and artwork ideas. We are really pleased to have offered this unique service to our wonderful customers! We hope there are more blends to come in 2009.
In my own tea world, no big resolutions this year - just to have more and more tea in 2009 - something easy that I can definitely handle. Take care and celebrate the new year safely!
Yours in tea,
Christine