Reviews
11:11 Teahouse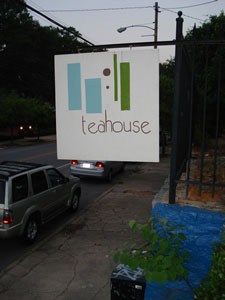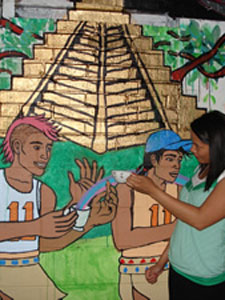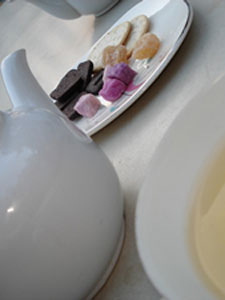 I was pretty excited earlier this summer when I was given the opportunity to travel to Atlanta to attend the World Tea Expo. It was my first business trip and naturally I was curious and nervous to see what events would unfold that weekend. It was like another milestone in making that transition into'Grown-Up World'. There were several trips to the mall the week before we left to buy business appropriate clothing. Memorizing wholesale pricing and handshakes needed to be practiced. I considered myself ready as me and my boss boarded our plane Friday night before the first day of the expo. We had hit major traffic on the way to the airport and almost thought we were to miss our flight. Luckily, it was delayed.
Six hours later, my boss and I disembarked. Not to find ourselves in the hot South, but still at Newark International; our flight had been cancelled. Cranky, tired, and with only a sandwich the size of a baby's fist in my stomach we soon learned that they weren't going to release out luggage and that we would have to try to catch the first flight out to Atlanta to meet up with the rest of the Adagio team. Luckily, I was put on an early afternoon flight the next day. My boyfriend picked me up, who graciously washed my clothes and made me a bowl of pasta.
We got to Atlanta in one piece, but after unexplained delays only to have our flight cancelled, missing the first day of the expo, nervousness that I wasn't going to get my luggage, I felt stressed. It was the last emotion I wanted to feel that weekend, as the expo was going to be a great opportunity to meet people and see how the whole industry worked. And besides, I was at the World Tea Expo; a convention centered around a drink that throughout history has been regarded as a relaxing, healthy beverage. I soon felt out of place while I laid on my bed in my single hotel room. I called up my friend Lindsey from Vee Teas, who was also in town for the expo. We had planned to go find a teahouse once we were in Atlanta. We took a cab down a while outside downtown Atlanta, by Inman Park and the old Fourth Ward, stopping at this house on the corner of a wide street. A couple of bikes were parked outside the doorway of 11:11 teahouse.
We stepped into the house and suddenly I was overwhelmed with a feeling of familiarity and comfort. The space was littered with mismatched furnishings, retro cookbooks and magazines, artifacts from several decades ago. A typewriter sat on top of shelf, inviting us to type a greeting to whoever decided to pass their eyes over the sheet of paper. There was a lively menu written entirely out of colored chalk on one of the further walls advertising the selection of bubble tea available. On another side of the room, simple wire shelves were lined with numerous jars of every herb you can imagine. It didn't feel like you were entering a café t at all, but rather it felt as if someone had invited you into the warmth of their home for a cup of tea. It reminded me so much of the apartments I used to live in and visit while in college- down to the Goodwill accents and homespun atmosphere.
It wasn't crowded; the only other customers in the room were a couple of good looking boys with glasses dressed effortlessly in thrift store chic. The owner of the teahouse, Penny, stepped out from the back to greet us. She wore an olive green slip and a vintage apron. She smiled as Lindsey and I exchanged glances over the freshly cut watermelon sitting atop one of the tables in the foyer and explained that she had been making some fresh watermelon juice for some iced tea. We immediately hit it off with her, as we both began talking about the expo, as she would be attending the next day. She was very gracious in helping us pick out our tea selections, as her specialty is herbs, having studied herbology while in Washington, where she originally is from. I decided an herbal would be my best bet and chose the'Strong Woman' herbal blend while Lindsey tried a lavender and peppermint blend. We moved to the backyard to enjoy the late afternoon sunlight. A variety of plants were found throughout the backyard and one of the walls was painted with a vibrant mural, adding to the eclectic and arty feel of 11:11.
As we waited for our tea, we saw that more people had begun to fill up the inside. We saw Penny balancing several items on a large tray. She joined us at the large table, and presented us with a small plate of candied ginger, dried taro, and chocolate cookies to accompany our tea, which were served in mismatched cups. She took the other items off the tray and we all began to chat again. As we talked about herbs, her tearoom, and Atlanta, she prepared some snacks for an event that was happening later on that evening the record release party for her friend's band, Magic Apron. She offered us some of the dates with cream cheese and orange zest and talk happily about the band.
My 'Strong Woman' blend was so soothing at the end of a long day that I took some home with me, perhaps to make later on at the hotel. Any indication that I was away for business was struck away. I felt more so in the company of good friends, much like those sentimental college years, when time was spent over cups of tea and coffee, snacks, playing old Black Flag or Pulp records on someone's beat up record player. 11:11 teahouse evokes this youthful, arty spirit that in a sense, helped me forget about all the stresses of my first business trip. Several ladies joined us soon after who were also attending the expo and we chatted about tea industry; they gushed about Penny's homemade iced tea.
We didn't stay for the show that night, but left Penny and 11:11 after exchanging business cards and hugs. 11:11 teahouse is definitely a place to stop by while you are in Atlanta, for a cup of a unique herbal blend as well as a homey, cozy atmosphere- wonderful if you are away from home.
11:11 Teahouse
753 Edgewood Ave
Atlanta, GA 30307
1111teahouse@gmail.com