Reviews
The Traveling Teacup: Tea Gschwendner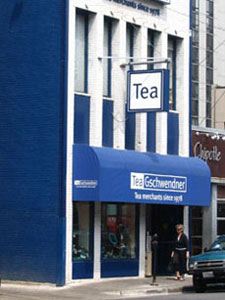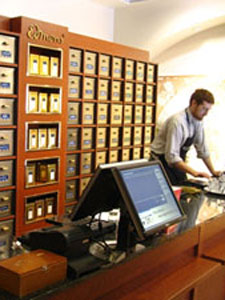 This month, contributor Elin Headrick visits Tea Gschwendner in Chicago, IL. Elin Headrick is a graphic designer who blends a love of tea with design work for tea packaging and promotion. She regularly travels throughout the US enjoying and reviewing tea houses and shops. Elin hopes to make a significant contribution to the developing tea culture in America.
New to Chicago and learning my way around the city, I stumbled on a large blue and white sign, which simply read "Tea." As I entered I was met with a friendly hello and a literal wall of tea.
Tea Gschwendner is a German tea company that chose Chicago as home for its first shops in America. Of course it is all about tea here, which I soak up like the kid in the candy store. I love this place. I've tried several of their teas; a vast selection includes over three hundred and many are estate specific. Loose leaf is sold both in bulk and in pre-packaged tins. Select lines are also available in tea bags. My favorite is Castleton Darjeeling Second Flush; it's sublime, light and flavorful. Some of my other favorites are the Formosa Fancy Superior Choice Oolong, Diplomat's Blend and China White Pai Mu Tan (my "every morning" tea I steep at home). A recent favorite is a "Trend" tea, Oolong Tangerine-Vanilla-Yogurt, which is semi-fermented with tangerine peel and blossoms. Its leaves smell strongly of yogurt, but its beautifully orange liquor tastes of tangerine.
They have two locations in Chicago proper and a third in the suburbs. Tea is served and packed from drawers mounted on the walls. I am always encouraged to smell the tea and examine the leaves. The staff is passionate about tea; they are engaging and tea-educated. Explanatory labels suggest brewing and serving methods, and customers are offered a free, informative book. Their distinctive private label teas include organic and Ayurveda lines. Four teas are typically ready to sample, and you can order a custom cup to go at either Chicago shop. The shop on State Street in Chicago's Gold Coast is a great place to talk tea and replenish your home supplies. At the bistro you can sit and enjoy a pot of tea with unique tea cuisine pairings.
I've dined a few times at Tea Gschwendner European Tea Bistro on Halsted. The chic, streamlined atmosphere is pleasant and comfortable. Tea is perfectly steeped before brought to the table and poured, no leaves, and set on warming stands with tea lights. (Is that where the name of those small candles came from?) On occasion they bring out the moist, fragrant leaves in a small dish to smell and see. The high quality white, porcelain cups and pots complement the quality of their product. It even feels good to hold the silverware.
The food is uncomplicated, delicious and elegantly presented. The fare includes salads, soups, wraps and tartines (open-face sandwiches eaten with a knife and fork). Highlights of their menu are the Lapsang Souchong marinated chicken with apple wrap and the caramelized cipollini onion and beef tenderloin with masala spices tartine. Desserts are all based on tea flavorings. Rose flower crème brulee is creamy, rosy and a little unlike most others. Other sweet options include an Earl Grey lemon tart, masala truffles and a chocolate blood orange fruit tea pot de crème.
Both shops carry a wide range of accoutrement for sale. From the insulated teapot made in France, clear glass pots with warmers and cups, to sleek Japanese cast iron pots, you are likely to find the ware to prepare and serve any tea.
Tea Gschwendner has become one of my favorite places for tea, inspired tea conversation and special cuisine.