Drinks & Eats
Tea Infused Treats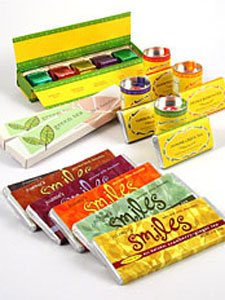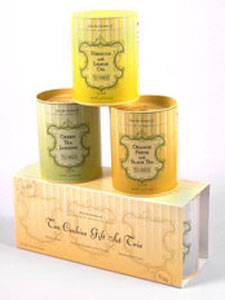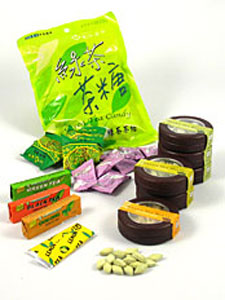 Am I the only one to consider handing out bags of tea as Halloween treats? I would do it, but some parents may see it as a caffeinated trick. I could lace the candy with tea... nah, too much work. Besides, I doubt I would create anything like the candies, mints, chocolates and cookies I have tried recently. Keep your eye out for these treats, and when spotted definitely try some!
I'll begin with chocolates infused with tea. As a graduate of the Cordon Bleu School of cooking and creator of Joanie's Smiles, Joanie Freeman has brought a new approach to tea infused chocolates - enjoyment in the form of a chocolate bar rather than a truffle (a typical vessel for beverage/chocolate combinations). Each of her 6 varieties of organic chocolates features a different tea infusion. She also contributes a portion of the sales of her bars to Operation Smile, a non-profit organization that sends doctors to repair facial deformities of children around the world.
Joanie has a loyal fan here, especially with her Wild Raspberry Tea milk chocolate (its lovely - bits of raspberry run throughout the bar - I savored it in small bites), Coconut-Green Tea dark chocolate and Herbal Chai Tea dark chocolate, which I was surprised to read, was made with an amber rooibos. Other flavors include Pistachio-Green Tea white chocolate, Cranberry-Ginger Tea milk chocolate and Rosemary Hibiscus Tea white chocolate. These are great chocolates coupled with a great cause.
The Splendid Specialties line from Torn Ranch specializes in truffles, chocolates and baked goods. In terms of tea infused goodies, their chocolates and cookies are absolutely fantastic. Adagio Tea fans will be thrilled to know that some of our teas are used in these recipes, and we at Adagio were thrilled to find out that the results are delicious.
Favorites among their line of Tea Cookies are the Masala Chai, which is like a chai infused ginger bread butter cookie, and Peppermint Chill, which is infused with Black tea and peppermint oil. Other varieties include Green Tea Jasmine (which was strangely both flowery and buttery), Hibiscus with Lemon Oil, African Rooibos with Guava, and Orange Pekoe with Black Tea (Damn you, Torn Ranch, for perpetuating the myth that orange pekoe means that it tastes like orange! Regardless, this is quite a delicious orangey cookie).
The Splendid Specialties Tea infused chocolates are equally as memorable. Milk Chocolate flavors infused with Ginger, Jasmine Green, Orange and "Chai" tea all equally showcase the flavor of the teas without completely overpowering them in chocolate flavor. The same can be said of their Green Tea Dark Chocolate bar - neither the dark chocolate or Green Tea flavor overpower the other. Their truffles are elegant in presentation, and do not in any way disappoint. I suffered multiple blows to the head in an effort to keep these from coworkers, and regret that I was forced to share.
Ten Ren Tea co. has been a purveyor of fine teas for many, many years. In my opinion, they should stick to beverages. They claim that their Jasmine Tea Candy is "ideal for the person who enjoys Jasmine Tea and hard candies". Hey! I'm that person!
On a recent road trip I tried one of these candies for the first time. The first 10 seconds were almost palatable. It soon became dry and sand-papery. The flavor then became quite bitter. I kept sucking on the candy (which was a feat in itself, because it had seemingly sucked up all of the saliva in my mouth) to the point where I was wishing it would be over already - something that never happens when enjoying a candy. Another 5 seconds passed when my body took over my brain, forced my hand to roll down the window and thrust the candy from between my teeth out onto the Long Island Expressway.
I tried the Green Tea variety later, and had a very similar experience. Only my body recognized the intruder much earlier this time, and launched the candy from my mouth, across the room and onto a coworker's desk. That's a way to stay popular at the office.
The last Ten Ren product I tried was the Sweet Preserved Plum with Green Tea. Think over-dried leathery prune, with seed intact, that tastes like prune and strange sugary perfume. If you could put essence of old age home into a snack, this is it. I am now stuck with the lingering aftertaste of old lady sweater*.
To be fair, Ten Ren carries many different Candies, Cookies, Chocolates and Snacks, many of which I did not get to try. The candies I encountered did not appeal to me, but you may enjoy them.
Sencha Naturals makes 3 different varieties of their Green Tea Mints - Original, Lively Lemongrass and Delicate Pear. Since green tea has the natural ability of to fight the source of bad breath - bacteria - these mints do not have to be overly strong to get the job done. Each has a similar subtle, green tea-ish, minty flavor. The Lemongrass and Pear mints offer flavorful variations on this common taste theme. I found that once I started on a tin, I could not stop. I nabbed an extra for my bag, and forced them on friends.
The mints themselves are leaf-shaped and have a texture similar to the Ten Ren candy (yet they are smaller so my mouth doesn't dry up as much). The company claims that eating 3 of these mints is equivalent to drinking a cup of green tea. I've sucked down about 12 of these bad boys in the amount of time it took to write this paragraph. Good thing they are sugar free, and there are 77 mints per container. Note also that they are Fair Trade for those who appreciate this certification. I'd better finish the tin quickly - I fear my husband has begun arranging an intervention.
Tearrow Tea Gum is unique to other gums on the market for a variety of reasons. The creator was able to figure out a way to combine organic tea and gum without it separating (the way gum separates when you get a piece of food in it). The company claims that each sugar free stick contains health benefits equivalent to drinking one cup of tea. The only problem for this avid gum chewer is that the flavor of the gum doesn't last very much longer than a hastily slurped cup. 1 min. 30 seconds is the longest any one of these flavor lasted.
Yes, I timed it. Yes, I'm nuts.
The Green Tea variety is flowery yet almost minty in flavor. The Lemon Tea flavor is fantastic - like black tea with lemon. Black Tea tastes just like a black tea with honey, and is lighter in flavor than the others. I enjoyed the Oolong Tea best. It seemed to mix Black with green tea elements. All of them peaked at about 1 min 10 seconds, and then rapidly fizzled afterward. A most peculiar, but interesting chew.
So many tea infused treats exist, although the likelihood of me sharing them with trick or treaters is slim to none. Ghouls and goblins be forewarned though, "trick" with me and I'll have a preserved plum with your name on it!
* Red hatters of the world, please know that I have many friend who are "women of a certain age" - many of which I will never ever see as being "old ladies", regardless of age. I also have never eaten an old lady's sweater. Please don't come after me - I love you all.