Reviews
Coffee Exchange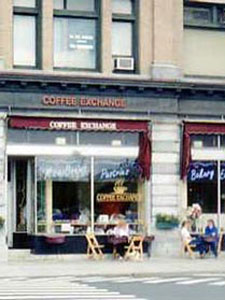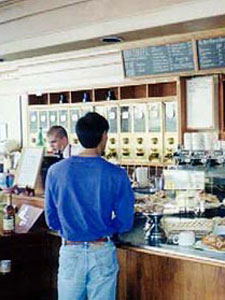 [TEAROOM ID=670]

Coffee Exchange is located at the northeast corner of Central Avenue and Merchants Row, right in the heart of downtown Rutland, Vermont. You might not expect it but despite its name, Coffee Exchange offers a wonderful selection of fine teas. At right in the photo is the attached restaurant known as the Bistro Café, with a fine menu of café fare.

The Safe
Coffee Exchange sports the typical artsy coffee shop atmosphere. It was constructed in the lobby of a defunct bank, and the safe was retained, quite a conversation piece. You can imbibe at the table inside if you like, bit it's not recommended for the claustrophobic! There are paintings and artwork throughout the building, and even a palm tree to drink under if you so desire.

The Cabinet
The tea selection is displayed in a handsome cabinet near the counter. There are over 30 different loose teas offered, everything a tea connoisseur could ask for. There are hearty blacks, fine oolongs, herbal tisanes, delicate Darjeelings and more. As an adventurous tea drinker I like having the opportunity to try a different tea each time I come in. The procedure at Coffee Exchange is to select a jar from the shelf and present it to the counter person, who places some of the leaves in a bag. This bag is placed in a cup and steaming water is poured over it. I brought my wife and two friends down to try some of the teas recently and here are the selections...

The Selections
As you can see, the teas are kept in glass jars with metal lids. What you can't see here is that the lids seal quite tightly to the jars with a plastic gasket, effectively blocking outside air from reaching the leaves inside. I always get a large cup, which yields about 20 ounces of tea. There are smaller cups as well of course. All of the teas were met with approval by their respective drinkers. I found the Darjeeling particularly good, great with just a bit of sugar.

The Counter
If you're hungry, Coffee Exchange offers a nice selection of pastries, cookies and other baked goods to go with your tea. The final word is that it's a great place to have a cup of fine tea.