Drinks & Eats
All About Masala Chai: THE SPICED TEA OF INDIA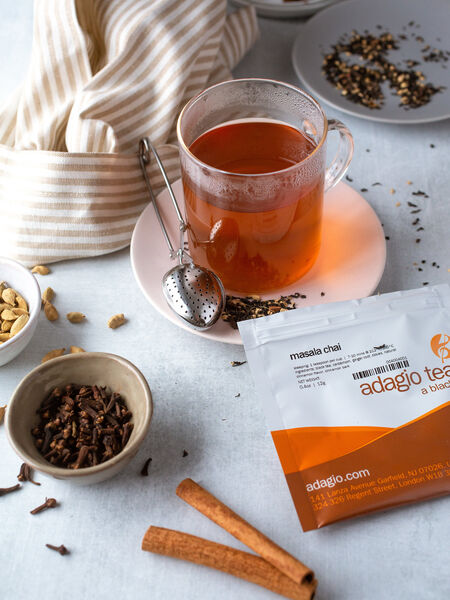 Like tea itself, the spices of Indian masala chai were once used in medicine, traditionally the Hindu system based on the idea of balance using diet, herbs, and yogic breathing. Chefs soon found these same spices greatly added to recipes sweet or savory. For centuries, Indian-style cuisine incorporated layers of spice additions beginning with toasted whole spices to crushed or powdered versions added at the last minute.
It's no mystery then to see why spices became part of the story of Masala Chai. (Although many of us call this beverage chai tea, it is a misnomer. Chai means tea in India so masala chai means spiced tea vs chai tea which means tea tea!)
Chai wallahs are people who serve or sell tea, and you're likely to find many of these venders carrying one load of clay cups and another of hot chai to sell everywhere and anywhere in India where people congregate. The clay cups are cheap, used once, and thrown to the ground where they shatter into a powdery clay once more. Biodegradability at its finest!
What Makes a Classic Masala Chai?
Masala chai, no matter what the recipe, contains three ingredients: tea, spices, and dairy. The spices and tea energize and the dairy offers. When combined, this tea warms our bodies and spirits. What could be more perfect as a national beverage for India?
Today's many enthusiasts of the spiced tea of India enjoy experimenting with these three basic ingredients. First, the tea. South African Honeybush or Rooibos or South American mates make a great backdrop for chai spices, however, Indian Black teas or breakfast blends are the most typical base for Masala Chai. While the traditional black Assam and Nilgiri create spectacular chais, Sri Lankan black Ceylon teas are also wonderful.
Green teas, popular in Kashmir for spicy chais, are more rare and apt to be gunpowder rather than delicate Japanese and Chinese vegetal ones. One other alternative is the greens made from various Ceylon teas or Darjeeling. They make a completely different type of chai, less smooth or soft, and less likely to be enhanced by dairy yet interesting with spices. Even delicate whites and deep rich pu-erh can be elevated to flavorful chai recipes.
For more varieties, please visit Adagio's website!
Blending Your Own Masala Garam
In Hindi, masala garam means a mixture of spices. The recipes are legion, perhaps as many as there are home and commercial chefs, so this is definitely where creativity is king.
Among the most commonly used spices in masala chais are cloves, fresh ginger, black peppercorns, cinnamon, and cardamom. Grind the spices from whole ones and grate the fresh ginger, peeled or not. Begin with a pinch of each into the mixture. Be aware that cardamom is the mildest of these spices and the sharp tang of the others can easily overwhelm it. Cinnamon, particularly from Sri Lanka or Vietnam, are mild in fragrance and taste so if you love it, add more! Allspice, which its name implies, is a spice that pre-mixes cinnamon, cloves, and pepper with a different fourth spice, nutmeg, an easy alternative to pursuing a balance of these flavors. Consider both mace and nutmeg, two parts of the same spice. Nutmeg is the oval-shaped pit or fruit, and mace is the webbing that surrounds the shell of the pit. Choose Sri Lankan if available.
In India, indigenous spices of various regions may include one or more of the following: ajwain, a bitter digestive; fennel seeds, a lighter digestive known by its Hindi names sonf or soanph, and roasted white poppyseeds, called khaskhas. They may be a little more difficult to find in standard grocery stores, so check out local Indian food shops or brick-and-mortar or online spice stores.
More common spices readily available for masala chai makers are anywhere. They are turmeric, coriander, bay leaves, lemongrass, saffron, star anise, licorice root, tamarind, and the seeds scraped from the pods of dried vanilla beans.
That's a long list of spices, so for home-made masala garam, we suggest you begin with allspice, then determine if you'd like more or less of any of the four flavor profiles. Adjust with the spices you enjoy most. Then, experiment with Western beverage flavors, especially chocolate or vanilla for additional creaminess, or lemongrass or tamarind for a little more tang.
Cows, Nuts, and Other Dairy Sources
To add dairy to masala chai, any dairy will do whether it's oxen or cow's milk, but avoid goat's milk for its signature tang. For additional creaminess, consider canned evaporated or condensed milk.
Non-dairy alternatives work well, especially cashew, oat or coconut milks, for a nice creaminess compared to almond, rice, soy, or hemp milks which are thinner in texture and lighter in flavor. Want to savor the tea and spices? Opt out of the dairy altogether. Your masala chai will be just as delicious and perfect. As always, follow your palate.
A Sweetener by Any Other Name...
The traditional Indian sweetener is jaggery, an unrefined cane sugar that comes in "lumps" that break down easily into a mixable powder. Jaggery is strong tasting, and helps to soften the edges of the spices used. Other alternatives are raw brown or demerara sugars, molasses, corn syrups like Karo, cane or beet sugars, honeys, and novelties like rock sugars or swizzlers of rock sugars which provide a more delicate sweetness.
If you cannot use traditional sugars for any reason, skip them rather than use artificial sweeteners of any kind as they can negatively impact the tea's taste. Stevia and plant derivatives like agave are possibilities, but for a genuine masala chai taste experience, go for the real thing. Most sugars and honeys have only 18-30 calories per teaspoon which any diet can support.
Basic Masala Chai How-To
Mix your choices of spices together in a mortar or grinder. Add freshly grated ginger, if desired. Otherwise, choose whole allspice, and grind to a powder. Choose your tea, and your mug.
Set out all the ingredients as listed below, plus the necessary equipment: measuring spoons, measuring cup, a small saucepan, and a small food strainer or tea filter plus a teaspoon for stirring.
INGREDIENTS:
6 ounces of water
1 teabag or 1 heaping teaspoon of your favorite loose-leaf tea
1 level teaspoon, or more to taste, of your own Masala Garam or allspice
2 oz. milk or dairy alternative, or more to taste
1 teaspoon of sweetener, or more, to taste
DIRECTIONS:
Boil the water in a small saucepan, then remove it from the heat. Put both the tea and spices into the pan of water and allow to brew for at least five minutes to bring out their intensity and flavor. While brewing, heat your mug with hot water, then discard that water. Pour the brewed tea through the strainer into your mug. (Discard the leaves and spices.)
Add your favorite milk and sweetener, stir, and enjoy!
YIELD: 1 perfect mug of masala chai. Easily multiplies.
Adagio has 17 recipes of chais, all pre-blended for your tea brewing convenience. They save shopping and prep time, and allow you to spend time doing what you love most, sipping a deliciously aromatic brew.