Enjoyment
DIY Tea Gift Baskets for the Holidays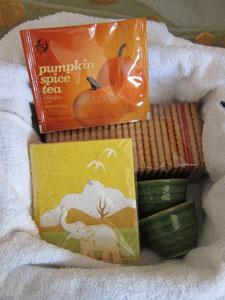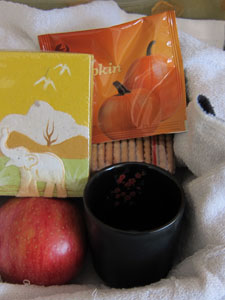 Nothing charms more than a gift basket of delectable teas and accessories for the holidays. It's a delightful way to thank a hostess for a festive meal, a more welcome gift than another tie or set of body lotions, and it can even be very kind to the budget.
One caveat, spend the bulk of your holiday gift basket dollars on high-quality teas, the freshest you can afford for best flavor and fragrance whether bulk leaf or in bags. Buy in bulk, if possible, and separate quantities into decorative containers for each basket. Even one ounce of a high-quality tea will give many cups of pleasure to your family and friends. So, how can you save money preparing gift baskets? Here are some ways to stretch the dollar yet make a pretty presentation for well under $20.
THE BASKETS:
Scour your favorite thrift store and dollar store for baskets. You'll find low prices and variety. A "basket" can be other things, too, such as pretty bowls, fun hats, even large totes and handbags, anything into which you can place the gift items.
Line the basket with colorful tissue paper, inexpensive bandanas or beautiful scarves, quirky samples from fabric stores or, for gifts to grandma in particular, hand-painted works of art from your children. Use these works of art an "extra" gift or use hand-print papers for wrapping items for the basket.
TEA & FOOD CONTAINERS:
The thrift and dollar stores are also great resources for colorful tins and unusual-shaped jars to use for home-baked cookies, candies, or other yummy edibles you'd like to include.
"Upcycle!" Decoupage or hand-paint well-washed jars or tins to make great containers for teas, flavored sugars, tea bags for loose tea, or a variety of sugars.
A selection of teas is preferred if you don't know exactly what type of teas the recipient enjoys. You can always include some of your personal favorites as well! If you think they're not open to loose teas (lovely as they are), stick to pyramid bags with loose leaf in them. Again, you can buy in bulk and put a few into more festive packaging!
TEA ACCESSORIES:
If you suspect the recipient is not an expert with loose tea, try including some small accessories to ensure they can make use of your gift. A small mesh in-cup infuser is often inexpensive and can be used with any mug you'd like to include in the basket. Or perhaps give them some paper filters if they're used to tea bags.
Lots of accessories are available at small prices at import shops. Here are a few ideas we've seen at world import shops around the country: honey scoops and honey dippers; porcelain and stainless demitasse-size spoons; small tongs for teabags or sugar cubes; pretty or funky mugs and cups with saucers; single-size milk pitchers; colorful napkins in either paper or fabric; pretty plates; packaged tea bread and scone mixes. Prices for these items range from under a dollar to $2-4 dollars. Glass or ceramic mugs make a festive addition to the basket, or even a thrift store china cup and saucer.
If you're thinking of spending a little more on the recipient, consider including a teaware accessory like an ingenuiTEA, or a variable temperature kettle like the utiliTEA.
SUGARS:
Use one or two fresh vanilla pods to place in a pound of sugar for several weeks prior to the holidays. The pods will infuse the sugar with its aromatic essence and your friends and family will love using it in their teas. (And, the pods can still be used in your baking.)
Shop the ethnic aisles in the grocery store or ethnic markets in different areas of your city for a wide range of different types of sugar like jaggery dark sugar from India; decorated sugar cubes, often a specialty at British stores; roughly-cut brown sugar cubes from Italian or French food shops. They add both a visual and taste twist to a cup of tea for those who enjoy sweetening.
EDIBLES:
Whether it's your own secret recipe for cookies or candies, or family favorites from the grocery store, make enough at home or buy in bulk and divide among your gift baskets. Put the sweets in tins, as noted above, lined with parchment or waxed paper to insure freshness.
Fine jams and jellies can be purchased in bulk and repackaged in small jars tied with colorful ribbons or pieces of fabric to make them look home-made special.
Tangerines and other citrus are at bargain prices during the holidays, so buy a few big bags to add a few fragrant Mandarins or Tangerines to each basket along with nuts in their shells, small boxes of raisins or dried cranberries or other fruits your friends and family will love. Other winter fruits like pears and apples or persimmons and small wedges of cheeses are other wonderful foods to add, especially if you're hand delivering your baskets.
With a little creativity in the presentation and a bit of personalization, your recipients will love their gifts!