Tea in Art
Reflections In Tea: An Exhibit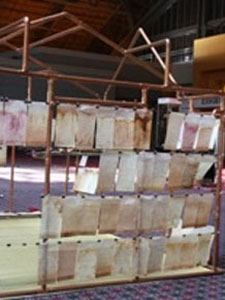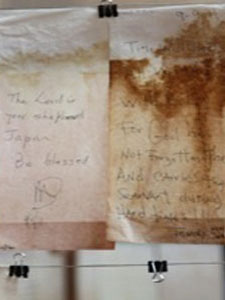 Tea art can take many forms, and artist Michele Brody has delved into an interactive method of creating it. Through mixed media installations and public art exhibits, she aims to "subtly plant within the viewer a desire to be more aware of the tenuous relationship between themselves, nature, and the urban environment. " "Reflections in Tea" has appeared at several events, including recently at World Tea East.
TeaMuse first featured Ms. Brody's art in 2008. The basis of her installation includes a teahouse framed by copper pipes, and the walls are filled with the participation of visitors, who have a cup of tea and write messages on the stained t-sac paper filters that comprise the teahouse's sides. While previous exhibitions have focused on conversations, human interaction and the multicultural experience, it has continued to evolve.
Recent exhibitions of the installation invite participants to reflect on the earthquake and tsunami that affected the people of Japan this year. The exhibit fosters connections between people through a shared interest and a common drink. A brief, encounter over a cup of tea becomes a personal experience that ultimately strengthens bonds to another country and culture.
At World Tea East, visitors wrote messages of hope, prayer, support and sympathy on the used filters. Ultimately, the filters from the wall of the teahouse will be made into a wishing quilt and sent as a gift to the residents of the Fukushima Prefecture. Participants were also asked to make a voluntary donation, the proceeds of which will go to the Japanese Red Cross.