Enjoyment
Flavors of Fall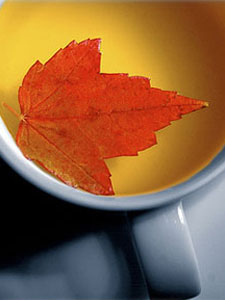 Finally, it's autumn! Here in the Northeast, that means cool, crisp air, the changing of the leaves from bright green to beautiful red, orange, and yellow, and — my personal favorite — a switch from the cold tea of hot weather to the hot tea of cold weather. But more than the welcome return of hot tea is the welcome change of the flavors of my daily teas. My summer tea flavors are typically mild, refreshing, and light. Ceylon Sonata (for a traditional iced tea). Peppermint. Apricot. Cucumber. White Peony. They're all wonderful, but after months of rotating through these straight-forward flavors — mostly iced but sometimes still hot — I am SO ready for the more dramatic flavors of the fall.
I think it's safe to assume that when people think of "fall flavors" (although really, they're cold-weather flavors as they're perfect throughout fall and winter) the first two to come to mind are "spiced" — namely cinnamon — and "pumpkin." Pumpkin certainly seems to be the most popular, as major coffee chains like Starbucks and Dunkin' Donuts bring back their famous pumpkin spice beverages in late August. They don't even wait until fall begins, and people excitedly celebrate with a multitude of boastful Facebook posts about the flavored drinks in their hands. As tempting as these beverages sound, they leave me lukewarm: in general they're regular coffee/espresso with sugary, artificial-tasting pumpkin syrup added in. Thus, I prefer the more authentic taste of pumpkin spice tea because it doesn't depend on syrup for its chilly weather flavor.
In addition to pumpkin, there are plenty of other seasonal flavors to help transition from summer to fall: cinnamon, hazelnut, chocolate, cranberry, for starters. The aromas are nice and they are a good start to the season, but I admit that as the weather turns cold, I typically want richer, more complex teas. So, one of the first ones I dust off is a chai. And I don't mean the milky, presweetened chai that comes in a carton, I mean a real chai tea that you brew, such as Masala Chai. I think most people can agree that one of the most prominent spice flavors of this season is cinnamon. It's warm, inviting, and just plain lovely. Combined with the clove, ginger, and cardamom of Masala Chai, this is the perfect tea to get me going in the invigorating fall weather. Consumed black or traditionally with milk and sugar, chai is a great start to any fall morning. It's also a great way to warm up on a cold afternoon — or evening, if you don't mind the caffeine.
If you do mind the caffeine, however, no problem. My second favorite tea of the season is the naturally caffeine-free Rooibos Cinnamon Apple. This has been a favorite of mine for many years, and I drink it on chilly evenings instead of chilly mornings. The smell is intoxicating and always makes friends and guests stop in their tracks to ask what I'm brewing. Inevitably they want a taste for themselves, and often they end up with a teapot and a bag of their own for Christmas.
Speaking of Christmas, this is the time of year when tea and coffee companies bring back holiday samplers, which are composed of a variety of flavors that people associate with winter and winter holidays, like caramel, chestnut, and gingerbread. Although not necessarily fall flavors, they are certainly pleasant even before the first snow falls (and hey, if people can drink pumpkin spice lattes in August, they can drink candy cane tea in October!).
While I'm certainly drinking plenty of chai teas and Rooibos Cinnamon Apple tea right now, I've recently introduced two new teas into my fall rotation: Earl Grey and Mate. Specifically, Earl Grey Moonlight and Mocha Nut Mate. The former is a traditional Earl Grey with a touch of cream and vanilla flavors, and the latter is a Brazilian tisane (an herbal tea, notably one that is caffeinated so beware if drinking at bedtime) with hazelnut and chocolate. Both are very different from a typical black or spiced tea and are a creative and unique change of pace from traditional fall flavors. In addition to the Mocha Nut Mate, the Spiced Mate is also a unique and occasional addition to my fall line up.
From now until the weather begins to warm in the spring, I'll be enjoying my favorite fall flavors. By then I'll be ready to return to my favorite summer flavors, but in the meantime, I'll enjoy the cozy, friendly warmth that these teas bring to my home and table.
What are your favorite fall flavors?