Profile
Adagio invites customers to experience tea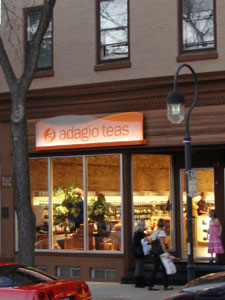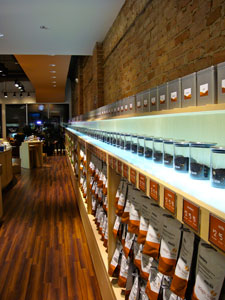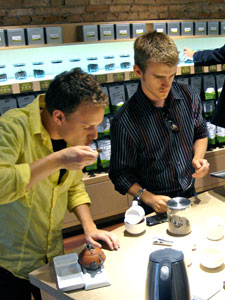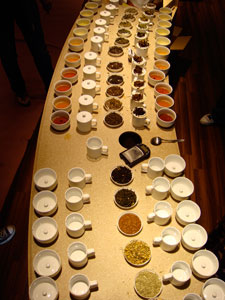 Adagio Teas' first Tea Experience retail store opened at 27 W. Jefferson in downtown Naperville, IL, at 4pm on Sunday, October 3, 2010. It was the very definition of a soft open; no press release, no advertising, and no announcements. We just unlocked the door and hung a sign in the window. Adagio's concept store, roughly a year in the making, was born without a sound...or so we thought.
The plan was to open for an hour, run a few transactions, and test our procedures to make sure that everything worked. But the customers had other ideas. While most other retailers on the street were closed by 5pm, we still had a full house until well after 7pm. More than 60 people stopped in the store that first night, and it quickly became clear that we had something special.
The premise of Adagio's move into brick-and-mortar retail was that most consumers are simply not familiar with quality tea. Traditional tea shops are foreign lands where the people speak in strange languages about things like oxidation, pluckings, flushes, and the benefits of steaming versus pan firing. The supermarket shelves are filled with flashy products and outlandish claims. For the brave soul who gives loose-leaf tea a try, a minor error in brewing or a stale and/or low-quality leaf can result in a poor experience and the incorrect conclusion that, "I simply don't much care for tea."
We knew there had to be a better way to introduce the casual consumer to the wonders of premium tea, and at the same time invite the connoisseur to come and play! Our strategy was to turn the store inside-out and make the entire process self-serve, prepackage every tea in the collection so that the staff could spend time with the customers instead of the products, and focus our energies on inspiring a passion for tea instead of landing a sale. Each of these strategies has worked well, but not without some unexpected side effects.
Every tea in the collection is displayed in sample jars around the outside of the store to allow customers to browse, smell, and even touch the teas without the help of the sales staff. Above the sample jar is a bulk-storage tin that offers loose leaf for brewing a cup or creating a custom blend. The customer is encouraged to grab a spoon and filter and hit the self-serve tea bar to try any tea, completely free of charge. For those interested in a more intense experience, the staff can assist in a professional comparison cupping of several teas — again, free of charge.
One of the advantages of allowing customers to access and brew the teas is that they are free to experiment. It's easy to add a scoop of chocolate tea, a scoop of caramel tea, and a scoop of coconut shavings to brew up a special treat. Love it? Then just ask the staff and they'll help you mix up a batch of your own custom blend.
The inside-out store has proven extremely popular. In most new tea shops teaware (like pots, cups, filters, and other accessories) account for 40% to 50% of sales, and the challenge is to get the customers interested in the tea. Over the first few weeks, the tea has been our star and teaware sales have accounted for only about 25% of total business. In addition to Adagio's core collection of teaware, the store carries a broad selection of Yixing clay teapots and handmade cast-iron teapots, colorful ceramics, and a range of decorative tea cups and brewing accessories. Our customers are showing very little interest in decorative teaware. I've never seen or heard of that happening before.
For those ready to make a purchase, each tea is packaged and sealed in the warehouse in a 1-ounce-or-less sample size, a regular pouch (2 to 4 ounces), and a pouch of premium pyramid tea bags. This strategy allows the customers to play directly with the tea, but also assures them of an uncontaminated and supremely fresh product to take home. It also minimizes time for customers and staff at the register.
The tea bags are an interesting test. They offer the same, high-quality whole-leaf tea in a convenient, if not slightly more expensive (due to additional packaging), format. Over the first three weeks, about 25% of our customers have purchased our pyramid tea bags.
Finally, the staff is trained and instructed to act more like tour guides and less like sales people. Meet the customer where they are, don't just try to make the sale. For tea novices, this means making sure they know how to brew a good cup of tea and helping them pick out a few samples to try. There's no point in selling them a pound of tea or an expensive teapot. For connoisseurs, this means pulling out the cupping sets or blending bowls and having fun! Want to do a comparison cupping of all four Keemuns? Sweet! Let's do it!
At the end of the day, we set out to build a store that offered an experience somewhere between a vineyard tasting room and an Apple Store. If the customer enjoys the product and feels comfortable with the product, they'll drink more tea. Whether they buy Adagio's teas in-store, online, or at their local grocery store doesn't matter. Honestly, we're happy even if they buy someone else's tea. The goal is to get people drinking better tea. When that happens, the market for premium tea will explode and we'll all benefit.
In 1991, tons of people drank coffee, but there were only about 1,650 coffee shops in the US. Why? Because everyone was drinking Folgers, Maxwell House, and Sanka. Fifteen years later, there were roughly 25,000 coffee shops in this country, and most homes had a coffee maker and bean grinder. The American consumer became familiar and comfortable with good coffee. Where will tea be in 15 years? Stay tuned..
For a full album of store pictures from preconstruction through opening day, check out my Naperville Construction Album.