Enjoyment
Monthly Musings November 2008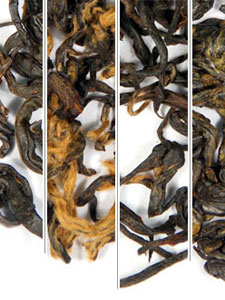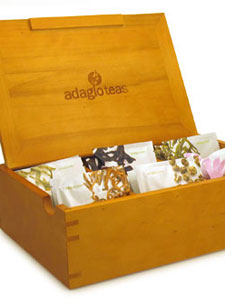 Hi Tea Lovers!
Hoping you all had a frightful Halloween! I know I got a slight scare last week when there was a sudden cold snap-it was snowing in late October! It was definitely an early surprise for many of us in the Northeast. Though it was a short-lived nuisance, it definitely got me ready and in the mind set for some hot tea.
Luckily, we have just gotten in some fantastic new Chinese teas. We are really setting the bar high with this premium offerings. My personal favorite is the new Golden Spring. The leaves remind me of bundles of amber colored embroidery floss. As much as it is a physically beautiful tea, it is also a delicious tea, substantial and savory in taste. I definitely recommend trying out a sample.
Other new teas that we are offering include: Fuijian Baroque, a black tea with spindly leaves and beautiful odor and scent, Keemun Rhaspody, a black tea fresh from the Anhui region of China, with a smoky flavor cut with a bit of sweetness, Yunnan Noir, a curiously shaped black tea with notes of fruit and chocolate in its flavor, Emerald Needle, an exquisite green, needle-shaped tea light and sweet, and White Symphony a light and flowery composition of flavor. A sample of each of these teas can provide a great primer of great Chinese teas for the curious new gourmet tea drinker.
As more new teas come trickling in, we are also getting in more tea accessories. One that has recently been added to the site is our handsome Tea Chest. Made of wood, stamped with our familiar Adagio Teas logo, you can buy the chest either empty or filled with two different selections of teas. You can choose our Gourmet Selection which includes English Breakfast, Green Pekoe, Jasmine, Chamomile, White Peony, Pu Erh or the Premium Selection which includes Golden Yunnan, Silver Needle, Wuyi Oolong, Dragon Well, Golden Monkey, Jasmine Bloom teabags. Though you might turn your nose up at some teabags, remember we use the same quality loose leaf tea in our teabags- just a bit more convenient! Our tea chests make for a great gift for any tea lover in your life, or a fabulous hostess gift come Thanksgiving or any other gathering.
Yours in tea,
Christine