Enjoyment
Monthly Musings, August 2008
Dear Tea Drinkers,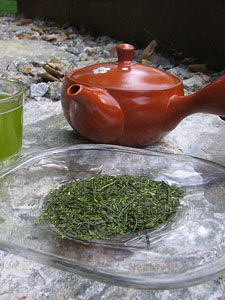 When you think that it couldn't get hotter (well, in Adagio's neck of the woods) August rolls around to remind you that, indeed, it does get hotter! Many of you have been visiting our site asking for iced tea recipes, so here's a reminder on how to make the perfect iced tea. Hope you're keeping cool!
Though everyone is stocking up on favorite hot teas to make ice during the summer, it still is a slower season for the tea industry. We're not slacking off however - we're getting many samples in of your favorite teas and also thinking of some new flavors to add, especially as we get ready for cooler weather and the holiday season. If you have any suggestions, always feel free to email them to us!
We launched our Masala Chai, a 'fiercer' chai blend than our Oriental Spice, a couple of months ago, and we've gotten so much praise from you all! Thanks so much for making this new chai-blend a hit! If you're interested, here is an article, entitled Calicut Chai, I pulled from the archives, that explains the origins of this beloved blend of tea and spices.
As August is a bit slower, here is some fun and random tea news found online. Have something you found online? Feel free to share it with us!
Ben and Jerry's New Iced Tea Drink
Stay cool!
Christine