Tea in Art
Michelle Brody, Tea Art
Tea to many people is thought of as a communal drink; something to be shared with a loved one at the end of the day, friends during weekly get-togethers,in a group over a special meal, or-with a total stranger. In her project entitled, Tea House Productions, artist Michele Brody aims to share the comfort and ceremony of taking people she meets at her installations. In her interactions, she forges relationships with strangers as they discuss their thoughts and ideas on tea. A source of inspiration is the Rory Stewart memoir, The Places in Between, in which the author travels through Afghanistan and experiences the hospitality of the countrymen through the offerings of room, food, and the tradition of presenting strangers with a cup of tea. Michele hopes to bring this connection to strangers she meets on the street or in gallery spaces.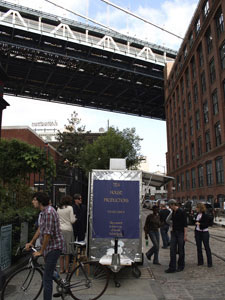 Michele Brody first premiered her unique installtion during last year's Annual DUMBO Art Under the Bridge Festival in form of a portable 'tearoom'; a food vendor's push-cart familiar to the streets of New York City. The tea cart is borrowed from a food vendor she befriended outside her work and is large enough to hold an assortment of teas and teaware, as well as the artist and a companion. For the festival, she stationed her tea cart in the Brooklyn neighborhood and invited many a passerby to come into her tea cart and have a cup of tea with her. Using a recording device, Michele records their conversation, as she asks them She then saves the paper filter used to steep their tea in, dries and irons them, and transcribes their conversation- along with the date and type of tea they enjoyed- onto the filter with ink. In a variation of this project the artist has constructed a 'teahouse' out of gleaming copper pipes, using the dried paper filters to construct walls; a colorful tapestry due to the various stains of the different teas she serves. The tearoom represents a structure similar to those used in Japanese tea ceremonies, where a specific structure is built for the sacred ritual.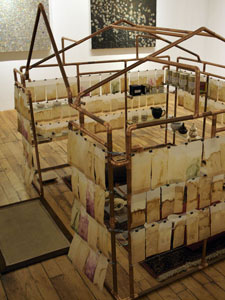 Michele also takes care in preparing her tea for her new friends. She is well-stocked with a variety teas donated by local NYC tea establishments, Sympathy for the Kettle and Alice's Tea Cup. The guest will pick out their tea, as well a piece of unique teaware (along with teas from around the world, her teaware reflects many different styles from traditional British china to simple and sublime cups from China). Michele wishes to represent with her diverse selection of teas and teaware the multicultural aspect of taking tea. Tea is a very important tradition throughout the world, whether it be taking part in a serene Japanese tea ceremony or gussying up for afternoon tea in Britain.
Along with the theme of multiculturalism, Michele hopes to represent the immigrant experience. Her use of the push-cart conjures up images of newly arrived immigrants in New York, hoping to make their way in a new country, many taking up the business of food vending. This can also be tied to modern-day, where many of New York's food vendors are recent transplants to America, who along with serving the typical American street food- hot dogs, pretzels, roasted nuts, introduce native dishes like Shish-kebobs and dosas. For future tea cart installations, Michele hopes to work with historical societies in neighborhoods whose roots lie within the immigration influx of the turn of the century.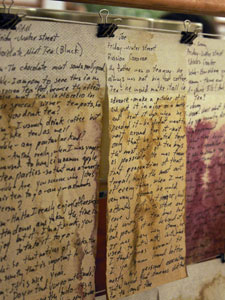 Tea House Products hopes to also negotiate the juxtaposition of our modern fast-paced, impersonal American 'to go' culture with the intimate, private, and personal. By inviting strangers to join her in her tea cart or tea house, and asking about their day, interests, background, and their thoughts on and memories of tea, she hopes to create a personal experience for all the participants, as well as taking the time to slow down and enjoy a cup of tea, through it's preparation represents the practice of patience in order to achieve the perfect tasting cup.
Michele hopes to bring the show throughout the country as well as put together a book with the various musings of her participants complete with photographs of the installations. Michele Brody's next installment will take place on June 5th through the 7th at the Henry Street Settlement Art Center on the Lower East Side in NYC. If you find yourself in the area, wander by, and perhaps Michele will invite in for some tea.