Reviews
Amai Tea and Bake House
Amai Tea and Bake House sits on an unassuming stretch of Third Avenue, nestled between a deli and a Chinese-Spanish fusion cuisine restaurant. Though there is no official signage out front indicating its presence just yet, the brand new tearoom is ready to welcome you inside for a cup of tea and one of their famous tea sweets.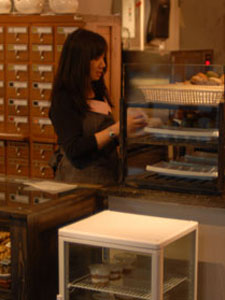 I've been a fan of Amai's precious little cookies for quite some time, and was thrilled to hear about a physical space opening up on the Lower East Side. I kept tabs by reading the owner of Amai, Kelli Bernard's, blog where she documented securing construction permits and exploding ovens. I had the opportunity to visit Amai during the 'soft-opening' of the tea room- the period before an establishment has their grand opening, to work out any kinks and figure out the flow of it all. I invited my friend in tea, Lindsey of Vee Tea; she is always looking for new places to bring her clients on her NYC based tea tours, to come along.
Once you step inside Amai, an air of coziness surrounds you. It's not terribly big; there are three café tables up front, with an additional two in the back. The décor is slightly rustic and homey, but definitely has a feel of downtown New York; the exposed brick, the large wooden fixtures displaying baked goods, and a renovated card catalog that sits right behind the counter which holds the sixty varieties of teas offered by Amai. The atmosphere entertains both those who come in to sit with a cup of tea and a tasty scone and those who pop in for a to-go cup before heading to work. This sense of welcoming to whoever comes into Amai is ultimately what Kelli wanted to achieve. After introducing ourselves to her, she invites us to take a seat in the back. She brings over a great sampling of her tea sweets, scones, and other goodies and a pot of tea to enjoy as we talk.
Kelli's notion behind her tearoom is the idea of bringing people together, making it a familiar place for those in and out of the neighborhood, which has been receptive to their opening. She reports that many residents of the neighborhood have been coming during the opening week, happily stating that this would be the new 'neighborhood' bakery. I'm sure it was after having a bite of any of Amai's delicious treats.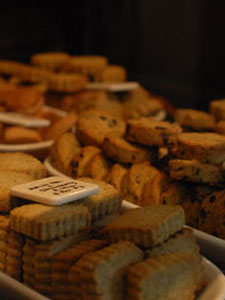 Along with bringing people together, Kelli hopes that she can introduce those not familiar to serious tea drinking to the vast world of tea. Though she has a good amount of knowledge about tea, Amai has an in-house tea expert, Queenie who will make the perfect pot of tea for your mood or taste. With a long inventory of teas that is ever-changing, they are sure to have something you will like. They also offer a suggestion board- teas that they think would pair well with their bakery and café items. We enjoyed a beautiful white tea and Bamboo Mountain oolong, finishing up with an exquisite Sencha. Amai also carries gourmet coffee and a vast selection of ready to drink beverages, hoping to get those customers and expose them to some good tea.
The same variety seen with their teas can be seen with their baked goods. The small Tea Sweets, tea-infused cookies are the faithful standby, but count on seeing a hodgepodge of desserts, most of which will change daily. Amai keeps it local, buying most if not all their ingredients from the nearby Greenmarket at Union Square and bakery items are determined on what interesting ingredients they can find at the market. Kelli, a former web designer who was not formerly trained in any pastry or baking art, collaborates with her baker Sarah to come up with the pastries they serve. Though many of the treats have tea in them, many do not in order to keep them approachable. Some might shy away from a Matcha scone, but might be more receptive to their Vanilla Bean scones, served with a pat of Matcha flavored butter. Among some other treats we sampled were a red bean steamed muffin, sweet potato puff, and chai pudding, which was so good I had to purchase a cup to go for the train ride home.
Opening up Amai has been a lot of hard work: long hours, little sleep, headaches. However, it looks like it's paid off. Kelli and her staff are still working at it, finding the perfect, or close to perfect pace in which to operate. For example, their hours are still in flux, as there has been an unexpected last afternoon-early evening rush-just another example of the surprises that they have encountered since opening.
As Lindsey and I left Amai, a young woman with two friends in tow saw us leave and exclaimed in a burst of anticipation, "I've just been waiting for this place to open!" So, if you are in the neighborhood, stop by Amai where you can satisfy both the dessert and tea lover in you.
Amai Tea and Bake House
171 3rd Avenue (btw 16th and 17th Avenues)
New York, NY 10003
Ph: 212-863-9630
http://www.amainyc.com