Enjoyment
Connecting Through Tea
Making Time for Friends and Loved Ones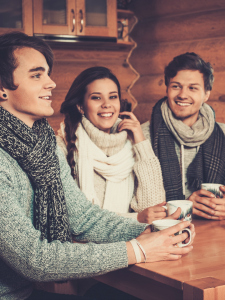 One of the top five most common New Year's Resolutions is to spend more time with family and friends. If that's one of your resolutions this year, we've got a secret weapon to help you stay on track: Tea!
Tea has been fostering connection and friendship for millennia. From Victorian parlors, to Buddhist monasteries, to the deserts of Africa, people from all walks of life gather over cups of tea to celebrate hospitality, to socialize, and to share a pleasant moment with others.
Here are a few ideas for building tea traditions into your life to make time for friends and loved ones:
Tip #1: Set up a regular teatime.
Life gets busy. Even if you're the most well-meaning friend, it's easy to get distracted by the flurry of day-to-day life. Before you know it time flies by, and you still haven't met up with that old friend you've been meaning to contact.
To keep time from slipping away, try scheduling a regular tea date ahead of time. Whether it's tea with your BFFs once a month, or an annual afternoon tea with your kids, build time into your schedule before your calendar fills up. Planning ahead also gives you something fun to look forward to together!
You can even get creative and set up themed tea times. For instance:
● Tea Happy Hour: Have you ever tried tea in a cocktail? The diverse flavors of tea blend wonderfully into all sorts of "grown up" drinks. Try blending in a strong infusion Matcha Green Tea, Earl Grey, or Chai for a unique twist on happy hour.
● Tea Over Skype: If you have a friend who doesn't live in town, you can still meet for tea together. Send your friend some tea you know they'll like, and purchase the same tea for yourself. Then arrange to brew up a pot at the same time and meet "over tea" using Skype or Facetime.
● Tea and Sympathy: Invite a friend over for tea and snacks, and let yourselves whine about life as much as you like. Then once you've both gotten it out of your system, create a plan together to help improve things!
Tip #2: Send a tea care package.
Nothing is as touching as receiving a surprise care package from a friend. It's a beautiful way to reconnect, and let someone know that you're thinking about them.
With tea gifts, it's truly the thought that counts. Go for thoughtfulness over dollar value. For instance:
● If your friend is under the weather, create a Wellness Kit with some Chamomile tea, a bottle of honey, some instant noodle packets, and fresh fruit (perhaps a lemon to add to the tea as well!).
● If your friend is going through a difficult time, leave a surprise basket at the door with their favorite tea, some homemade cookies, and a card letting them know you're there for them anytime they need support or just want to chat.
● Send a "thinking of you" card in the mail, and slip in some teabags or a gift card for their favorite teashop. You can even include a message saying, "This gift card is for us to use the next time we meet for tea!"
Tip #3: Set a tea goal together.
Speaking of New Year's resolutions, the #1 resolution people make every year is to get fit and healthy. Tea can help you with this too!
One easy way to cut calories is to replace sugary sodas and snacks with tea. Sometimes when you crave something sweet, all you really need is a little energy boost or the flavor of something sweet. Tea can provide this without all the calories. Some studies also indicate that drinking Green Tea may help boost your metabolism and burn fat during exercise.
Once you've set a health and fitness goal, invite a friend to join in the goal with you. This will make it much easier to stay on track. You can hold each other accountable to your goals, checking in daily or weekly to see how the other person is doing. Did they do their 30 minutes of exercise today? Did they find any great teas that really take the edge off their sweet tooth?
Each time you contemplate skipping your workout, you'll remember that you have to report back to your friend the next day. By recruiting your friend as an ally, you'll keep the momentum going and are much more likely to achieve your goals.
The best part? By keeping in touch and celebrating your fitness achievements together, you'll be reinforcing your friendship. Bonus points for accomplishing two New Year's resolutions at once!
Make time for what's important
These ideas are just a few to get you started. Your tea traditions may look very different than someone else's, but the opportunity is always the same: tea provides a way for people to connect with each other.
Judging by how many people resolve to spend more time with loved ones each New Year, it seems like we could all use a little more genuine connection in our lives.
New Year's is a reminder for us to make time for what's important in life - and perhaps that starts with making tea!
Tiffany Picard is the Digital Marketing Maven at The Tea Mavens, the premier business-consulting agency for the tea industry. Tiffany has worked in the tea world for over 10 years, and loves nothing more than a steaming cup of Yunnan Gold black tea. Learn more at TheTeaMavens.com.