Profile
A Closer Cup of Tea: Tea Cultivation in N. America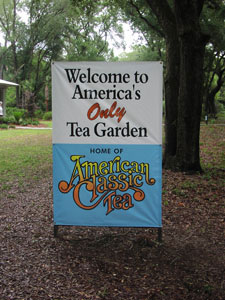 Quick - name a country that grows tea! China, Japan, India or Sri Lanka may be among the first to come to mind. But some innovative entrepreneurs are trying their hand at growing tea in the climes of North America. These pioneers are taking the local foods movement to a new level.
The Charleston Tea Plantation in South Carolina is the best-known example of tea grown in North America. Officially established in 1987, this plantation on Wadmalaw Island seems to have ideal conditions for growing tea, especially the sub-tropical climate and 52" of rain per year. All the tea plants on the plantation are descendents of an earlier attempt to grow tea in South Carolina: in 1888, a Dr. Shepard founded the Pinehurst Tea Plantation, which operated until his death in 1915. In the 1960s, some of the tea plants were transplanted to the experimental research farm that eventually became Charleston Tea Plantation. A tourist destination in itself, they offer trolley rides through the tea fields, and factory tours to see how tea is produced. The Bigelow Family purchased the plantation in 2003, but it continues to sell its teas only under the American Classic Teas brand.
While none of the other North American tea producers are quite as established as the Charleston Tea Plantation, they are pushing the boundaries of traditional tea production. The selection of appropriate cultivars for the climate is imperative. The Sakuma brothers initially planted several different varieties on their Washington state farm; over the last decade or so, they've been able to select for the ones that best withstand Washington's winter temperatures. Also a berry farm, they produce white, green and oolong teas in the Skagit Valley. The past few winters have been colder than usual, and combined with pest damage, the number of plants was heavily reduced. But they continue to make progress as they refine their processing and take "local" to a new level in the Pacific Northwest.
Further to the north, Brendan Waye is trying his hand at tea cultivation in Canada. He was inspired to combine his love of tea (he owned Canada's first multi-store teahouse chain, and now owns The TeaGuy) and his love of gardening after a visit to the Charleston Tea Plantation. British Columbia's temperate climate is the most likely area of Canada for tea plants to thrive, and while challenging, Waye has been shepherding Assam seedlings for less than a year. Starting from 650 seeds, he is caring for the 50 saplings that have survived thus far, and he purchased a greenhouse to aid the growth of the young plants. Waye has followed strictly organic and biodynamic practices in growing his tea plants, and will continue doing so during the harvest and production phases over the next few years. "The whole notion that these leaves will someday provide me with a Canadian grown cup of tea is entirely novel and exciting," he says.
California also has an experimental tea project in the works. An hour outside San Francisco, Roy Fong, another tea industry veteran and tea retailer by trade, is preparing 23 acres to grow tea. The initial plans involve focusing on oolongs. While California is known for fertile soils, it's climate is less humid than traditional Asian growing regions, presenting new challenges to establishing tea production there. Again, finding the varietals that are best suited to the local climate will be key.
And finally, while not generally open to the public, Fairhope Tea Plantation in Alabama produces oolong tea that is sold in limited quantities each year. Donnie Barrett established the plantation with a variety of tea that he bred himself and it sells out every year. Locals enjoy purchasing the tea in shops in downtown Fairhope.
Though unlikely to ever supplant Asian tea production, there could be a point in the near future when many more of us are sipping a cup of tea from our own continent!