Enjoyment
Better Packaging Methods For Everyone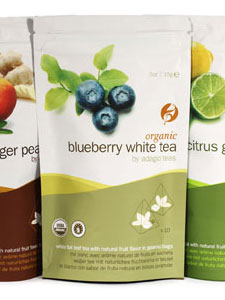 As some of you may have noticed, we are undergoing a change in the way that our tea is packaged and presented to you. For 11 years now, we have packaged our tea in metal containers. Many of you have written to us saying that this is a great way to store tea, and we agree, but in our attempt to become more 'green' we have chosen to opt for a more environmentally friendly way of packing. We will still offer tin containers to you, in the Pantry section on the website, but all of our teas will soon come packaged in thin multi-layered stand up pouches.
In our research to find the best packaging methods (in terms of protection as well as environmental impact) we have found using pouches made out of flexible protective material to be the best decision. How do these pouches compare to other options? Compared to our current packing, these pouches have much less impact on the environment. The metal containers we would receive from China, and the crates were extremely heavy. With our transition to flexible material, there is now opportunity for obtaining the packages domestically. Also, due to the light weight of the pouches and the fact that so many can fit into one shipping crate, there will be less oil used, and less CO2 emitted into the atmosphere, when we order packaging materials.
Another way that the new packages are better is that they take up much less volume in a landfill. The metal containers are quite bulky, but the pouches are paper-thin so they take up much less space. Why don't we choose biodegradable material? For our purposes, there is no material out there that is both biodegradable and efficient for packaging. When we ship out tea we make sure that you get the leaves in their right condition. Metal is a great protective material and so is the new material that we have chosen, but biodegradable material is not. It is too soft and does not offer the protection that the tea needs. We have to worry about various factors like puncture resistance and keeping out moisture and air. The material that we have chosen contains several micro layers fused together to form a barrier film that is very strong at keeping the tea safe. There is unfortunately no protective material out there that is fully biodegradable. In addition, creating biodegradable right now would mean cutting down many trees, and that is not a good idea with the currently rising CO2 levels.
We are confident that you tea lovers will be happy with our choice. The new packaging provides us with the means to create a much cooler packaging style. Check out the picture on the right for an idea of what they will look like. Every tea variety has its own packaging style (actually each tea style will have 4 packaging varieties with different pictures on the back). Not only are these new packages better for the environment, but they also look way better than the old tin cans. In a couple of weeks we will be fully transitioned. We'd love to hear your thoughts once you get the new finished styles, so tell us what you think!