Reviews
Tea Infuser: A Synthesis of Art and Function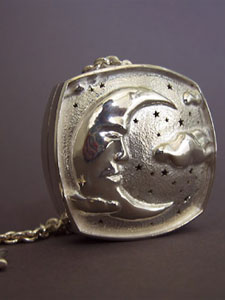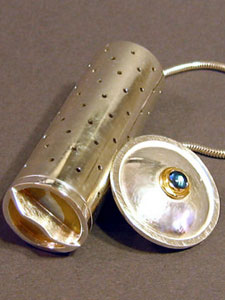 Tea-accessory designer/craftsman Kevin Ard invites TeaMuse into his studio for a look at the process of creating his functional works of art for tea lovers.
Texas artist Kevin Ard is one of the few artisans in the world who exclusively makes tea infusers, tea balls and other tea accessories. After designing his first infuser in 1998, Ard was hooked. Tea infusers present a very special challenge: the pieces not only have to be beautiful, but they must be designed and crafted to function and maintain their beauty after years of use. Making tea infusers requires a combination of art and engineering that includes designing strong closures and clasps, planning the container shape and size so it will hold just the right amount of tea and making sure that water can flow in and make a cup of tea without loose tea leaves escaping into the cup. Kevin Ard takes us through the steps he takes to meet these challenges for each unique, one-of-a-kind piece.
Designing for individual tea lovers
Most of his work is commissioned by individuals, so most projects begin with a conversation where Ard gathers information about the client and what they would like his inspiration to be. He learns whether the tea lover prefers silver or gold, tries get a feel for what the person is like, what kind of piece they envision: flashy or elegant, traditional or wild. Do they want a piece that is covered in diamonds or something more understated? "Really anything is possible," Ard says, "It's only a matter of determining what the client wants. Sometimes they'll give me total freedom and say they just want anything elegant as long as it's one of a kind." Other times, clients will come to him with very specific assignments.
After talking with the client, Ard begins developing and drawing concepts. Each piece is different; inspiration can come from anywhere. Recently, he completed a piece for a collector who wanted a friendly, cartoon-style airplane tea infuser for her husband, a pilot. The airplane's wings posed a problem - how could an infuser with wings easily fit inside a cup of tea and still hold enough loose tea? "I went through half a dozen concepts before my 18-month-old son brought me a toy airplane that gave me the inspiration for the shape of the final design." For another piece, it came down to his client's words: "I have always wanted a tomato-shaped tea ball." He searched local produce markets to find the perfect tomato to model the realistic piece after. During this stage, Ard will produce anywhere from 3-10 different design concepts, and from there he usually chooses the best 1-3 to scan and present to his client online.
Once the customer and the artist settle on a final drawing, the serious design challenges begin. Ard must decide exactly how the infuser will open and latch securely shut, where the hinges or other mechanisms will go, where the chain will attach, and where and how many holes he will drill to allow water in to infuse the tea. Seemingly simple infusers can be surprisingly complex; in the case of the tomato, 10 separate pieces of silver needed to be cut and shaped to make up the main body of the tomato. He spends days at the drafting table, designing all of the individual pieces and planning where they're going to go and how each one will fit tightly with the rest.
Starting with a sheet of silver
After the design work is complete, Ard begins the complex process of making all of the components by hand. Starting with a sheet of silver, he uses a wide variety of techniques - forging, soldering, bending, shaping and hammering. He explains, "I don't limit myself to any one approach. I use any tool or technique that is best for making that particular piece." As each component takes shape, Ard custom fits it to the previous pieces like a carefully assembled puzzle.
When the basic shapes are finished, Ard stamps the piece with his initials and then begins working on hand-making the mechanisms that will allow the infuser to open and close tightly. Around this same time, he begins adding decorative details and textures that will make the final work stand out.
Next he must drill the holes that will bring water in to infuse the tea. He carefully measures out the distance between each hole and makes a small dent in the silver at the center of each point. He then goes back and drills each hole.
Once the piece is assembled and drilled, he files all of the edges and any rough spots, and then begins the long process of hand sanding the entire surface. For pieces that call for gold overlay, he adds the gold details at this stage and then tumbles the piece in a rock tumbler. "It's a little strange to toss this elegant, delicate-looking piece into a tumbler with stainless steel shot" Ard says, "but that's the best way to harden the silver as much as possible," making it more durable and less likely to scratch with regular use. After the silver is hardened, he sets any stones and adds other finishing touches.
Finally, Ard adds a chain and polishes the piece one final time. After weeks of planning and effort, it is time for the final test: He and his wife use the piece to brew a cup of tea. "That's the true standard," says Connie Willan, a long-time tea accessory collector who owns five Kevin Ard infusers, "Whether it brews a great cup of tea."
Kevin agrees: "Of course they're meant to be beautiful," Ard tells us, "But I want people to use them. I really like hearing that one of my pieces is someone's favorite way to brew a cup of tea. Especially if it's a piece that I custom designed especially for that individual." At the end, his goal is for the tea lover to enjoy steeping their favorite teas using a unique work of art that was made with them in mind.
Kevin Ard tea infusers range in price, starting around $900. For more information about his work, visit www.kevinard.com or contact the studio at info@kevinard.com.
For more information on the history and availability of antique and modern tea infusers as a collectable art form, visit www.teainfusers.com