Drinks & Eats
4 Easy Tea Cooking Tips to Amp Up Savory Dishes
Image:
Image: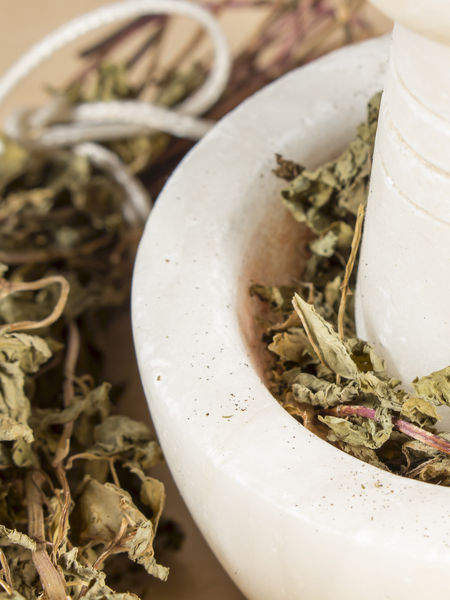 Umami is what the Japanese call a fifth taste after sweet, salty, bitter, and sour. It's that element that raises a dish from merely delicious to totally spectacular. Food scientists agree that one part of umami is the use of the amino acid, glutamate, which is found in all foods that contain protein like cheese, milk, meat, fish, and even some vegetables, particularly mushrooms. Glutamate is also produced by the human body for metabolism and brain function.
What is Monosodium Glutamate?
Monosodium glutamate, or MSG, is water, sodium, and glutamate and it was originally made from seaweed. In both Japanese and Chinese cooking, chefs have added a commercialized version which usually contains corn sugars and starches which are then fermented.
MSG does work a chemical magic to make chicken broth more intensely chicken-flavored or beef stews taste beefier and, as a bonus, gives more of a satisfying "mouth feel" after eating it.
Glutamate is indeed a natural "excitatory neurotransmitter" that send signals to the palate and the brain that a dish tastes "wow". For chefs and home cooks, the question remains, how can we duplicate the positives of MSG without its commercialized additives which many diners dislike?
The answer is to add tea to your cooking. It's healthy, accessible, and inexpensive. Some culinary applications include adding tea leaves whole or crushed, infusing liquids for marinades, or adding brewed tea liquor in both plain and flavored versions. Tea is an especially fine finishing element for excellent savory cooking. And, it has a history (think tea-marbled eggs) but new twists from modern-day chefs have elevated its use and sparked creativity for many home chefs.
We believe tea is the perfect umami ingredient to make your recipes. Here are a few ways to use tea in your everyday cooking and understand why umami roughly translates to "deliciousness".
GRAINS
Whenever you make rice or grains, flavor the cooking water with tea. If pairing rice with seafood, for example, a lemon-flavored tea would make the dish sing. Green tea, like Gunpowder, adds a clean, fresh taste to plain rice when used in cold salads or hot with vegetables.
When cooking farro, barley or brown rice for an accompaniment to short ribs, add some Pu Erh to the water and increase the depth of the dish ten-fold. You can never miss using a bright Ceylon or sweet Sencha to the liquid in cooking grins, but do consider all the dishes of your meal and choose the teas that best integrate flavors with companion dishes. Even a classic couscous benefits from an infusion of tea whether you make it savory with onions and vegetables, or sweet with almonds and oranges.
PROTEINS
Animal proteins, tofu, and seitan all benefit from adding tea either crushed with other herbs for a rub, in gravies, or as a liquid to add moisture. To eliminate overcooking the tea, add it about 5 to 10 minutes at the end of the cooking time unless you're using tea liquor as a marinade. In that case, marinating your protein for 15 to 30 minutes prior to cooking will sear the flavor of tea into the food. Perfect choices are those blacks with a soft edge like Yunnan, Keemun, or even a smoky Lapsang Souchong.
Fish is also a great food to cook with tea. Try braising a whole fish in an infused with tea, like Gyokuro, or use a small handful of crushed leaves along with your favorite spices for a rub for thick cuts of your favorite fish. Salmon, swordfish, thick slabs of cod, all are ideal for rubs.
Stuffing mixtures for fish, game, or chops can also benefit with a sprinkle of tea leaves for added punch of flavor and texture.
VEGETABLES & POTATOES
Let's not forget the veggies! These are the perfect foods to prepare with teas flavored with citrus, fruits, or nuts. We suggest brewing lightly, then using the tea liquor instead of water for steaming green beans, spinach, chard or peas. Garnish with fresh citrus, fruits or nuts that are in the tea, and you'll have a dish as pretty as it is tasty.
The natural heartiness of mushrooms is easily enhanced by adding a few tablespoons of brewed black tea after sautéing. Crush a few of the same the leaves on top for both texture and flavor.
And, lest we forget that the potato is a vegetable, infuse whatever butter or milk you're adding to mashed potatoes with an intense Ti Kuan Yin or mellow Keemun.
Fatty foods like creams or butters are natural flavor carriers, especially when imbued with tea. Creamy yogurt or sour cream flavored with a punch of Genmai Cha would by yummy on a baked potato.
SOUPS & BROTHS & GRAVIES
Teas add both color and flavor to soup, broth or gravy. To use, crush a few Yunnan black tea leaves at the end of cooking to add a soft, sweet depth.
Soups, in particular, need a sodium boost because the biggest ingredient in the recipe is not the chicken or the veggies, but the water which is, essentially, without taste. Water-based soups need considerable seasonings, more salt than you might first imagine, and that "something else" that tea can offer. As always, add the crushed tea leaves or tea liquor near the end of the cooking, adjust the seasonings, and prepare to wow your family or guests.