Profile
LEAP INTO LOVE with BRIGADOON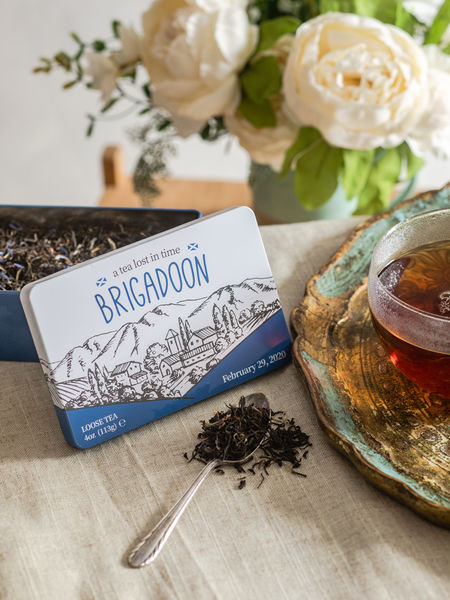 Once upon a time, there was a Broadway music partnership between Alan J. Lerner (lyrics) and Frederick Lowe (music). They came upon a fable about a wisp of a kirk, a tiny village in ancient Scotland, which came to life once every one-hundred years.
Enchanted by this idea, Lerner and Lowe expanded on this story and created their first hit musical. It premiered on the Great White Way in 1947 and became a popular movie, with Cyd Charisse and Gene Kelly, which opened in 1954
Reading the reviews of the play, it's astonishing to note these raves perfectly describe Adagio's Brigadoon Breakfast Tea: "brilliantly integrated show of much beauty and imagination," and "An enchanting fantasy," and "Magical."
BRIGADOON Breakfast Tea is as beautiful to see as it is delicious to drink, with the smoothness of Keemun black, the full-mouth pleasure of Assam black, mixed with the delicacy and sweetness of Silver Needle and Blue Cornflowers. "A tea lost in time," BRIGADOON, is as mysterious as the ephemeral Scottish village and just as rare, for it is offered only ONCE every four years to cleverly coincide with Leap Year, the perennial Day of Love.
But, hurry, Brigadoon Breakfast tea will be for sale ONLY ONE DAY: Saturday, February 29, 2020. Supplies are limited. Don't forget to share this with those you love.
It's easy to prepare: bring your kettle to a boil, steep a hearty teaspoon of tea in a cup for 3 to 5 minutes, and you'll be transported to that land of enchantment, Brigadoon. We have lovely blue and white tins holding a bountiful 4 ounces for only $15, as well as a few other surprises!
THE LEGEND OF BRIGADOON
The story goes that many centuries ago, fearful that outsiders would ruin their sweet village, the elders asked the gods for a miracle to preserve their way of life. Their prayers were answered, albeit partially: the village would indeed be saved, but the townspeople would only come awake ONE day, ONCE a century. And, on that day, they would love and marry, and celebrate with each other with grand feasts and fairs, dancing, with joy all around.
As the play begins, the people of Brigadoon are awake and alive and in the throng of joy. They are soon surprised to meet two American lads who are lost and have stumbled across this kirk of a place called Brigadoon.
As luck (and the clever plot) would have it, over the course of the day, one lad, Tommy, falls in love with a Brigadoon lass, Fiona and the elders assure him that, "A stranger … can stay if he loves someone here, not jus' Brigadoon, loves them enough to give up everythin' an' stay with that person."
Tommy cannot embrace this idea of being with Fiona only once a century, and returns home to the U.S. surprised to find it difficult to fit back into his life. He's haunted by the experiences of that one special day. Finally, accepting his own loneliness, and recognizing the conundrum that love is stronger than logic, Tommy returns to Brigadoon only to find the village has truly disappeared. His hopes are dashed.
Well, it wouldn't be a Broadway musical with an unhappy ending, so there's a coda.
On his arrival, running hither and yon trying to find the village, his heavy footsteps awaken the sage of the kirk who is totally nonplussed to see Tommy, and says, "Ye shouldna be too surprised, lad. I told ye when ye love someone deeply anythin' is possible."
So, Tommy stays in Brigadoon, meets up again with his beloved Fiona, and all is well one day a century forevermore.
May ye find ye love, and may it be as satisfying and smooth as "a tea lost in time," BRIGADOON.