Reviews
Teahouse Kuan Yin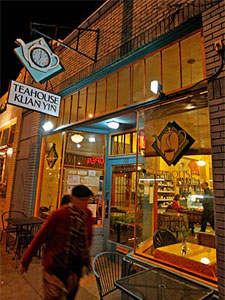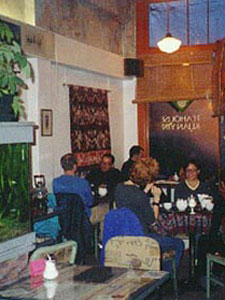 [TEAROOM ID=583]

Nestled in Seattle's Wallingford neighborhood, Teahouse Kuan Yin is a welcome refuge for tea enthusiasts, University of Washington students and Wallingford Center shoppers who are looking for an infusion of caffeine or a relaxing herbal blend. The atmosphere is nothing like a British tearoom ≠ you won't find ruffled curtains and linen napkins here. Instead, you will find warm colors, soothing music, and a wall of interesting teapots, teacups, and cozies. Acoustic live music is featured on Saturday nights.

Tea House Kuan Yin features an exotic selection of black, green, herbal, and oolong teas from China, Japan, Taiwan, India, Sri Lanka, and Malaysia. Only the freshest loose-leaf estate and origin teas are chosen. And while you won't find fruit teas, you will find wonderful herbals with intriguing names like Wu-Wei (a Taoist term meaning "peacable energy"), Haiku, and World Peace. We tried an assortment of teas in each category. Wu-Wei, developed at the teahouse, is a zesty and complex blend of hibiscus, cloves, lavender, orange peel, sweetleaf and lemon balm.

The tea exhibits a beautiful light plum color with a citrus and floral aroma. It is naturally sweet, tart and spicy, yet contains no caffeine or sugar. I imagined drinking it iced for a summer refresher. Cameronian is a soft, fruity black tea from the Cameron Highlands of Malaysia that never turned bitter, even after steeping a very long time. Tung Ting, an oolong, was spicy and earthy with a color like fine jade. And the popular Sencha was a beautiful liquid green that reminds you of springtime and fresh mown grass. As a special treat, Oren introduced us to Gong Fu Cha ("the highly-skilled art of tea") with a 23-year old Pu-Ehr. He explained that the tea is pressed into a brick and aged, and the tea garden's chop is pressed into the brick. To make the tea, they break off a small amount and brew it. Over several tastings, the color of the tea became a rich chestnut brown and moved from an earthy flavor to a sweeter flavor. If you fall in love with any of their teas, they are available for purchase.

The teahouse also offers a variety of snacks and desserts. Our overwhelming favorites were the desserts. Crafted by local independent bakers, these high quality desserts are an excellent accompaniment to the teas. We sampled a caramel layer cake, a slice of Dutch apple pie, and an orange cranberry shortbread cookie. While equally wonderful, the shortbread was our choice for best dessert. It was rich and flavorful, not dry and crumbly like we usually expect shortbread to be. In addition to desserts, they also offer an assortment of snacks including soup, quiche, and peroshky ≠ perfect for a light lunch.