Reviews
Alice's Tea Cup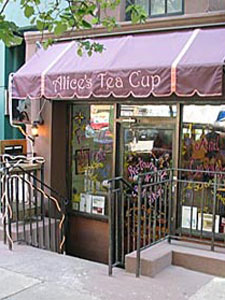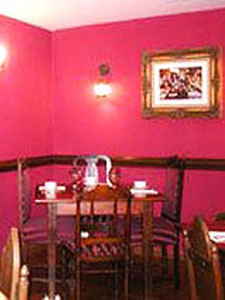 [TEAROOM ID=614]

For those seeking a comfortable and cozy tearoom in the heart of Manhattan, Alice's Tea Cup is a find. At the front of the shop, rows of stainless tea containers welcome you with 107 varieties ranging from creative herbal combinations to the classic Earl Grey with a twist of lavender. Each is vacuum-sealed to assure you of the most fresh and flavorful available. The proprietors, Haley and Lauren Fox, also offer a variety of tea-oriented books and a selection of appealing teapots, cozies and accessories.

The heart of this new (only open since mid-December) magnet to the Upper West Side, though, is their warmly friendly tearoom in back. The creamy yellow walls continue from the shop to the back, developing trim in burgundy near the ceiling with extracts from Lewis Carroll's masterpiece. The seating area is in two sections, the back of which can be closed off for private parties. Throughout, mismatched but coordinated dark wood tables and chairs are perfect for parties of two or four. The décor welcomes females and males of all ages, as it's neither frilly nor consciously upscale. High chairs are provided for younger patrons.

The reasons to come are the food and the tea. The simplest choice for one is a pair of freshly baked scones with strawberry preserves and cream and a 3-cup teapot full of your favorite for $8. A more popular choice was the hefty Mad Hatter at $25, including the pot of tea and scones plus tea sandwiches, a choice of Jean's "not-yet-but-soon-to-be-famous" mocha chocolate chip cake or seasonal tea-infused fruit tart, and an assortment of cookies. To show their creativity and whet your appetite, my tea sandwiches were three wedges each of Lapsang Souchong smoked chicken breast with granny smith apples and herbed goat cheese on seven grain bread and smoked salmon with lemon-dill butter on black bread. All of this was served on the three-tiered servers that are so familiar to those who are tea room addicts. More importantly, each item was fresh and delicious - no dry bread here.

The menu includes a daily soup (tomato or curried celery that day), light salads, sandwiches and addictive deserts. They are also happy to arrange a special menu for events such as a teddy bear tea for your favorite youngster or a birthday tea for a beloved friend.

And the teas! The front room and wait staff know their teas well. My choices were a Japanese Bancha followed by a pot of Royal Yunnan (golden-tipped black). Both were brewed to perfection in the kitchen using cotton tea filters, then decanted and brought to the table in classic English teapots complete with drip catchers under the spout. I couldn't leave without purchasing small amounts of their Bourbon Rooibos for late evening sipping and their Moonlight Blend of green teas. All of their teas are available either for drinking there or for sale by the ounce for at home enjoyment.

Haley and Lauren have provided a center for enjoying tea and friends without pretension. Next time perhaps I'll have the warm pear salad with Belgian endive, watercress, stilton and port vinaigrette at $12 with a pot of Black Fruits - a black Indian tea flavored with black currants, black berries, and blueberries for $4. If you're in the city, rest awhile there with me.