History
Sir Tea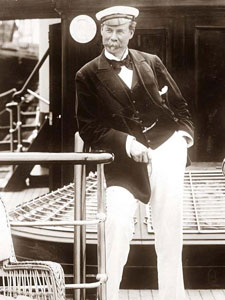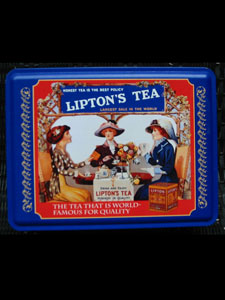 Considered the father of modern advertising, Thomas J. Lipton was born in Glasgow, Scotland in 1850. At the age of fifteen he traveled to the United States with less than eight dollars in his pocket. After working on a Virginia tobacco farm, a rice plantation in Charleston, South Carolina, and a streetcar in New Orleans, Lipton got a job in a department store's grocery in New York City. Here he witnessed American merchandising and advertising in action and absorbed lessons he never forgot.
Unlike millions of others who emigrated to the United States at that time, Lipton saved up his earnings and returned home to Scotland. After working in the family grocery store for a while, he opened his own in Glasgow in 1871. His first publicity stunt was a traffic-jamming, headline-grabbing parade of the largest hogs in captivity bearing signs proclaiming: "I'm going to Lipton's. The best shop in town for Irish bacon!" By 1880, Lipton had twenty stores, and by 1890 he had three hundred. He had become a household name throughout Britain, known as much for his hard work and abstemious lifestyle as for his innovative retailing and promotional techniques.
The turning point in Lipton's career came after his success as a chain grocer when he entered the tea business. In 1889 he celebrated the arrival of his first twenty thousand tea chests in Glasgow with a parade of brass bands and bagpipers. The going rate for tea was then around three shillings a pound, but Lipton priced his at one shilling sevenpence.
Lipton's tea empire really began, however, with his first-ever "vacation," to Australia, the next year, when he secretly stopped in Ceylon. There a recent blight had ruined the English coffee planters, and the survivors were planting tea. Lipton bought five bankrupt plantations-eventually acquiring about a dozen others-and unveiled the slogan "Direct from the Tea Gardens to the Teapot."
If the public came to identify the name "Thomas Lipton" with Ceylon tea, that was exactly what the Scotsman intended them to think. He loved to take guests for rather windy picnics on the six thousand foot summit of his favorite Ceylon property, Dambatenne, and gesture possessively at the Miles upon miles of indistinguishable jungle below, as if the island were one vast tea garden presided over by a genial father figure sporting a goatee, yachting cap and blue polka-dot bow tie.
Before long he had the world believing Orange Pekoe, the old tea term used to denote the largest grade of leaf, was not the name of a leaf size but a type of tea unto itself for which they should accept no substitutes. "It's brisk!" his advertisements explained, "brisk" being simply taster's jargon for any tea that is not stale or flat-tasting. He was a showman new to the tea trade and showing off the new tea terms he had learned.
An innovator, Lipton pioneered the use of a cable transport system between the steep Mountainside gardens and the valley factories for more efficient production. At a time when most tea was sold directly from open tea chests and weighed out for each customer, Lipton sold his tea in individual packets for consistent quality and freshness and guaranteed weight. After ten years in the business, the millionaire grocer became a multimillionaire tea merchant famous worldwide.
For his American headquarters he chose a warehouse in Hoboken, New Jersey, because the huge Lipton's Tea sign he erected on it could be read from any point in New York harbor. The name Lipton was no longer just the name of a chain of shops, it was now identified as the trademark of an international commodity.
Lipton was knighted by Queen Victoria and became Sir Thomas in 1898. That year he also took his private company public as Thomas J. Lipton, Ltd. though he retained personal control of his American company. At the same time he undertook his most romantic quest: he issued a challenge to the New York Yacht Club for the America's Cup, yachting's most prestigious prize.
"Sir T" failed in five attempts to return the Cup to Britain, but his sportsmanship and good nature won him wide admiration and affection throughout the United States. Sir Thomas often expressed regret that "my only blood relatives In America are some New Jersey mosquitoes." A lifelong bachelor, he died in 1931, at the age of eighty-one.
Lipton Tea was to be the tea trade's largest worldwide success throughout the course of the twentieth century. It was a triumph for the British Empire. Colonial tea, led by Lipton, replaced China tea decisively in the West as British colonial-built industries took root in the new tea lands of India, Ceylon and elsewhere. It was black, black tea and nothing but from then on and the ancient China trade dwindled into insignificance.