Reviews
Tea Lounge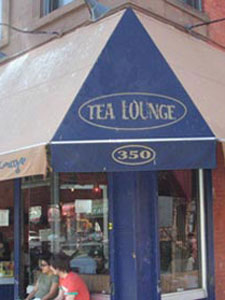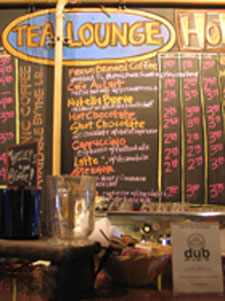 [TEAROOM ID=671]

For those seeking a respite at the end of a long day, a place to remove the winter chill, an extended visit with friends, or simply to savor a cup of tea, the Tea Lounge fits the bill. Day or night you will find people sinking into the lounge's old comfy chairs and couches, challenging an opponent at the game table, or relaxing with a pot of tea in the velvet-covered window seats. The Tea Lounge, located in the Park Slope neighborhood of Brooklyn, New York, has quickly become a local favorite.

Over sixty teas are offered on the Tea Lounge menu. A pot for one or two is served on a wood block tray with a wooden cup. Its most popular teas include the delicious-smelling Red Shakra, Moroccan Mint, Lavender-Chamomile, and a robust Empire Earl Grey. Red Shakra is a rooibus-based tea blended with blood oranges. Rooibus is a South African plant known for its medicinal benefits and properties, including vitamin C, antioxidants, protein and minerals. The Tea Lounge's long list of black teas includes Tibetan Tiger and Lap San Souchong. Green teas include bancha, green mai cha, and pu erh, which comes in the form of a small pod. Herbals and fruit teas are also available.

Part of the appeal of the Tea Lounge is its full range of drink offerings. If some of your party prefers a specialty coffee or wine or beer they have some very good selections. And, of course, kids big and small enjoy the hot cocoa topped with a star or heart-shaped dash of chocolate. To accompany your drink it's hard to resist a treat ≠ cookies, muffins, scones, or the apple vegan health bars.

The price of a pot of tea for one is $2.50 and for two is $5.00. Loose tea can be purchased in bulk. A small selection of gifts is also available, such as tea-related items, candles, and hand cremes.

A visit to Park Slope, Brooklyn, should definitely include a stop at the Tea Lounge. Even my friends on New York's Upper East Side will make the 'journey' to Brooklyn (it's a New York joke), but only "if we can go to the Tea Lounge."