Enjoyment
2005: A Year of Tea in Review, pt. 2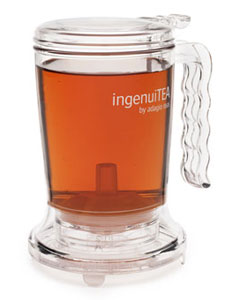 In our last action-packed episode of TeaMuse, we rummaged through the newest offerings of 2005 and disinterred the worst products the tea world had to offer. In this month's season finale, we'll explore and extol the best tea products of the year. But first, a quick recap of those that were covered last month:
1. The ReadyWhenUR by PG Tips - A kettle you have to call when you're running late.
2. The Tea Stick by Gamila Design - The (really) high price of slick design.
3. Green Tea Frappa by Starbucks - Stick to coffee, fellas.
4. The Health Tea Wand - Presto Strange-o.
5. Anteadote by Adagio Teas - Bottled tea...what bottled tea?
And now, without further adieu, I present my picks for the Best Tea Products of 2005:
Numi displays it all
While display teas are by no means new on the market, Numi Tea Co. is proving to be the first to successfully purvey these to customers within the United States. An age-old tea art form, these hand-sewn "artisan teas" (as Numi calls them) are one of the quickest-growing markets in the American tea industry. While much of the success may be due to the packaging itself (they come in really cool specially designed dark mahogany bamboo cases), the quality of the product is nothing less than dazzling and delicious.
The triniTEA: three reasons you'll love this teamaker
OK... I'll be the first to admit it: when our R & D department told me that they were working on an all-in-one teamaker, I was a bit wary. After all, most electric teapots I've seen in the past have been sub-par at best, some even limited to making tea from teabags. My fears, though, were quickly alleviated with the first flick of the switch. The kettle section boils water quicker than I could've imagined, the infuser part can be set to several different steep times (making it wonderfully variable), and the carafe is on a heated base so the tea stays hot and fresh for a while. Although it is not perfect (I'd love to see an adjustable water temperature setting myself), it is a vast improvement over the rest of the market, and earns a solid position on the list.
Making convenience an organic experience
My friends at Rishi Tea, a company famous for purveying the one of largest selections of organic and Fair Trade teas in the industry, introduced a great line of iced teabags this year. It is no surprise that Rishi's master blenders concocted these extra-large teabags with organic loose leaf tea and tisanes, but my favorite part about this product is that even the filter pouches and packaging are biodegradable. In other words, this is the perfect product for the inner environmentalist in us all. You'll want to sip some tea and hug a tree simultaneously.
How do you improve an already-great idea? With a little ingenuiTEA.
Of all the unique and useful tea products that Adagio offers, probably the most noteworthy is the widely popular and distinctly innovative ingenuiTEA teapot. A couple weeks ago, Adagio released the new version of this amazing teapot in response to some of the feedback we've received over the past few years. It's got the same great functions and capabilities, but unlike past models, the new ingenuiTEA has a sleek new design and allows for much easier cleaning. Featuring a removable filter and detachable lid, it is now just as easy to maintain the teapot as it is to make tea with it.
Yes folks, 2005 was a great year for tea. Earlier this year, a long legal dispute finally ended over whether "rooibos" could in fact be called "rooibos" (we don't have to call it "red tea" anymore). Last month John Harney, founder of Harney and Sons, was named Food Artisan of the year by Bon Apetit magazine. And just a few short weeks ago 'A Guide to Tea', written by the Sexiest Tea Author of 2005 (selected by TeaMuse.com), was published and made available for purchase.
In closing, I bid a fond farewell to 2005 and anxiously look forward to what 2006 will bring. I wish all my wonderful readers safe, happy holidays filled with many warm, healthy cups.