Enjoyment
Upcycle Your Tea Tins!
3 Ways to Upcycle Tiny Tea Tins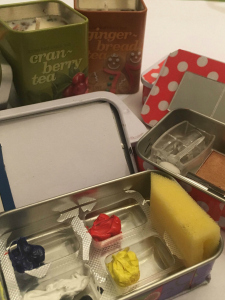 Small and sample tea tins are adorable, convenient, and perfectly travel sized, which sometimes makes them too hard to part with. Why not be productive and transform your tins into a new and useful homemade treats? Many found materials or inexpensive items at a your local supply shop can be utilized to upcycle your tins. Ranging from simple to more complex projects, tea tins can be reinvented into numerous new gifts for yourself or your loved ones....
1.A Portable Paint Set
SUPPLIES
* An empty plastic welled-gum container or individual plastic wells found at an art supply store
* Scissors
* Oil or watercolor paints (acrylic paint will dry out )
* Wooden paintbrush
* Sandpaper (optional)
* Glue
* A small sponge or rag
* A magnet
* Small sheets of paper
Depending on the size of the wells in your gum container, the tin will fit about four compartments. This is about half the size of the gum package. Individual plastic paint wells can also be used instead of an empty gum container, and are available online. These plastic wells are perfect for storing professional grade watercolors. If your wooden paintbrush needs to be cut down to size to fit inside the tin, sand the end smooth with a sheet of sandpaper. Before distributing the paints, glue the wells into the bottom of the tin so they will not move. You can attach the paper to the inside of the tin's lid using a small flat magnet. Once the glue has dried and the paint container is set, the paints of choice can be poured into the individual wells. Add in a sponge, rag, or other related accessories on hand to complete the paint set.
2.Compact and Makeup Set
SUPPLIES
* Scissors
* 1 flat thin mirror
* A small magnet
* Glue
* Elastic (optional)
* A small tin of makeup
* Various makeup tools
* Isopropyl alcohol
* Cotton balls
The mirror for the compact can be affixed one of three ways, depending on the size and thickness. If the mirror is paper thin, it can be affixed to the inside lid. Any thicker, and the mirror will need to be attached to either the outside top, or the inside bottom, of the tin. Use glue or attach a small magnet to the back of the mirror and makeup containers to hold them in place inside the tin. Make sure to leave a space for any makeup tools. The tools can be held in place by attaching small pieces of elastic loops to the bottom of the tin. A few items to consider including are a pencil sharpener, eyeliner, bronzer, eye shadow, and one or more brushes. Be sure to sanitize the container, and contents with isopropyl alcohol before using. It is also possible to hand- make small batches of makeup and use bottle caps or small empty containers found at a local supply store.
3.Chai Spice Tea Candles
SUPPLIES
* Candy Thermometer
* Wax flakes, or recycled unscented candles
* Heat safe container
* Pot
* Wicks (with metal attachments)
* Wooden Sticks/Chopsticks
* Clothes pins
* Pan
* Vegetable or Coconut Oil
* Vanilla (powder if possible)
* Ground Cinnamon
* Ground Cloves
* Ground Cardamom
* Ground Anise Seeds
This project will take the most amount of time, but if you have been saving several tea tins of varying sizes, this will allow you to make multiple candles at one time. Use 2-4 servings of chai or plain black tea behind to craft your candle. Use the recycled candle wax or wax flakes from a craft store. Most wax flakes will have instructions on the packaging.
Measure the wax using the tins on hand. It will melt down to half the size, so fill up each tin two times for each candle. After measuring the wax, pour the dry flakes into a heat safe container (like a glass bowl) that can be used in a double boiler. Be sure to have oven mitts on to protect your hands. Fill a pot halfway with water to be used as the base of the double boiler, and be careful to not allow any water to get into the wax flakes. Put on low to medium heat and use a candy thermometer to maintain the right water temperature. It should be about 180°F when melting. Depending on how much wax is being used, melting the wax could take as much as 30 minutes.
The wicks can be affixed to the bottom of the tea tins by dipping the metal base into the hot wax, or by using a dab of glue. Center the wick in each tin and get a clothespin to keep the wicks in place.
Place oil in a pan, add your tea and spices, and heat on low until incorporated. This should take about ten minutes. This will be your fragrance.
Once the wax is melted and removed from the heat, it has to cool to 150°F in order to add the fragrance. Pour the fragrance into the melted wax and stir using the wooden sticks/chopsticks for two minutes. Then carefully and slowly pour the mixture into the tins to cool. The candles should not be used for 72 hours, as they need time to set. Immediately clean the containers that held the hot wax.
Finally, be sure to enjoy or gift your new creations!
What other upcycling ideas can you come up with to give life to your empty tins? Do you have any favorite teas that spark crafting inspiration?