Reviews
BonBonerie Tea Room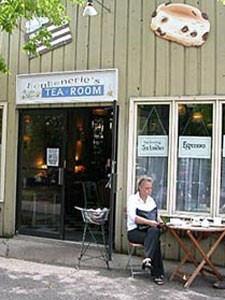 [TEAROOM ID=459]

The celebrated BonBonerie bakery in Cincinnati has been voted the Best in Cincinnati, and featured in Bon Appetit magazine. Nevertheless, I wasn't motivated to drive 80 miles for an éclair. That is, until recently, when I learned that the 20 year-old bakery was also home to a tearoom. Although suspicious that the 'tearoom' might only consist of tea bags in tepid water, served at a pair of tiny tables situated by the bakery counter, my cousin and I made the trip.

The BonBonerie Tea Room shares a common wall with the bakery, but has its own entrance. We passed by a couple enjoying tea at one of several outdoor French café tables. Inside, the tearoom is charming, ornamented with an eclectic jumble of mismatched china, fresh flowers, and ceramics. The high ceilings are painted in a mélange of cozy, cheerful colors worthy of Mary Englebreit. We choose a table by a window, nestled on one side by a rustic cupboard brimming with a collection of kitschy kitty-cat teapots.

A smiling girl came to take our order, her flip-flops slapping casually across the black and white tiled floor. She explained that "the Bonbon" serves over twenty-five high-quality teas, many supplied by Taylors of Harrogate and Rishi. Varieties included molasses-and-malt flavored Golden Yunnan tea; Zinger tea- sassafras, ginger and black pepper infused with Darjeeling; Rooibos from South Africa, an unusual Victorian Violet imbued with violet flower oil, and Japan's most popular green tea, Cherry Sencha.

Reservations are necessary for proper Afternoon Tea, featuring mini scones, fruit bread, finger sandwiches and pastries, along with the tea of your choice. We ordered soup and sandwiches from the colorful menu bound with curly-ribbons. Our soup was steamy-hot, and served in amusing oversized teacups. The tasty sandwiches were laced with fragrant dill, and served on bread fresh from the bakery. The menu also offered "Tea Lunch", an assortment of beautifully arranged finger sandwiches, with fresh fruit and a pastry; and with a variety of salads and quiche.

The grand finale was pots of hot tea and decadent, gorgeous desserts. Our waitress suggested, that, while she prepared our tea, we walk into the bakery and choose pastries from the counter. After thoroughly scanning the tea list, I decided to try Lichee Red, a black tea from Guangdong, China. Its rich, pungent flavor, owing to the essence of lichee fruit, was strong and enjoyable, but it made for a, shall we say, "interesting" contrast to the slice of "Tangerine Moon," a buttery sponge cake filled with luscious tangerine cream, that I selected from the bakery counter. My cousin imbibed a wonderful black tea flavored with apricots and accented with sunflower, which was a better compliment to her cappuccino brownie than my chosen dessert and tea combination. Cheesecloth tea strainers allowed us to control the strength of the brew by removing the bundle of loose tea.

We were pleased with the quality tea, delicious food and unhurried, pleasant atmosphere. The BonBonerie Tea Room was well worth the drive.