Reviews
Elaine's Tea Shoppe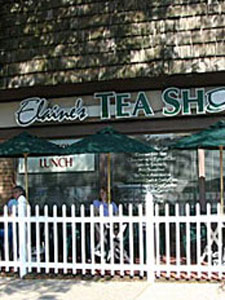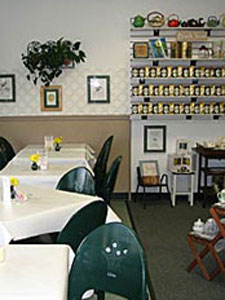 [TEAROOM ID=691]

When someone thinks of Toledo, Ohio, they usually conger up an image of the old John Denver song, or Klinger from M*A*S*H, not a source for quality tea. However, Elaine's Tea Shoppe is positioned to help change that image.

The front facade is a rather unassuming storefront, but you know exactly where you are by seeing the large teapot shaped sign above the door. Upon entry, you walk into a room done up in a French-Country style, not the typical Victorian type tearoom. The store has two basic sections to it; the tearoom and the retail area. Tablecloths, fresh flowers on the tables, a relaxing musical selection, along with the soft sounds of a water feature accent the tearoom.

After taking in this visually, you are greeted at the door with a sample of the shop's tea-of-the-month, and offered to have a seat, browse at your leisure, or ask as many questions about tea as you wish. After spending an hour with Elaine Terman, the owner, it's obvious she has extensive tea knowledge.

The retail shop has an extensive assortment of tea accessories and gifts, from cast iron teapots to teapot shaped charms. The focus is truly on the health benefits of tea, and is complemented with an assortment of aromatherapy, bath and body care, and all-natural botanical products.

Elaine's serves and sells only premium quality loose leaf teas. They have over 30 different teas on the menu, and sell over 100 different teas in bulk. The types of teas range from the typical blacks and greens to herbals and rare whites, including some interesting blends, chai, and iced drinks such as the Lavender Lemonade and Iced Chocolattea.

Most teas served in the shop are served in French presses, although for certain teas and occasions, ceramic teapots are used. Prices for the teas are quite reasonable, ranging from $2.00 for a small press (one cup), to $4.50 for a large press (2-3 cups) of a premium blend or rare tea.

The menu, while not extensive, is properly oriented to those seeking either the traditional tea fare, or just something different from the usual lunch menu choices. The menu includes the Tea Luncheon plate with tea sandwiches trimmed into heart shapes and garnished with fresh grapes and baby carrots, and a serving of pasta salad. Other items include soups, bagels and bagel sandwiches, scones with clotted cream and jam, fruit / cheese plates, muffins, and usually a selection of 4 different desserts.

The afternoon I sampled Elaine's, I chose to have the UnWrinkleMe Tea™. This is a special blend created by Elaine, and is a combination of white, black, and flavored teas that is extremely pleasing to the palate. It's also high in anti-oxidants, hence the name. I also tried one of Elaine's chicken salad bagel sandwiches, along with a blueberry scone with clotted cream and jam.

Elaine's caters to the casual shopper / diner, however the shop can be reserved for different occasions such as wedding showers, baby showers, children's birthday parties, formal teas, or any other reason you might have. Hours are from 10-6 M-F, 10-5 on Saturday.

I highly recommend stopping by Elaine's Tea Shoppe if you ever find yourself in or near Toledo. It's truly a worthwhile stop, and an oasis of civility in an otherwise hectic world. But, if you can't make it to Toledo, she is accessible through her website for questions, comments, or mail-orders.