Health & Beauty
Flower Power: Benefits of Flowers in Tea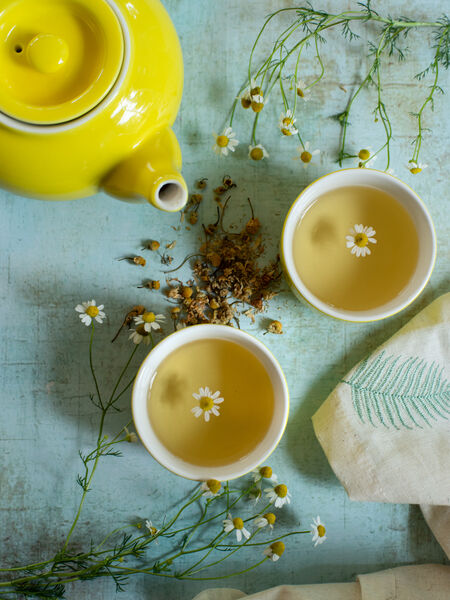 So You Want To Be A Knight Of Flowers? Floral Teas For The Win!
It's springtime! This is high-powered flower season, full of pastels on the runways and petals in our tea blends.
Flowers sound so pretty, right?
Delicate, magical, and mostly useful for decoration— right?
Come on, if you've been with me this far, you know that's as wrong as it gets!
Flowers can be a great tool for your herbal medicine cabinet, when approached and steeped with the right intention. Many of the Adagio blends feature specific flowers that each have their own special properties, lore, and tasty applications!
Let's meet a few of my favorites: marigold, cornflower, and chamomile.
Marigold
Marigold has been used for centuries in a multitude of ways. Its health benefits include lowering inflammation (particularly for the eyes, due to containing a compound called lutein), boosting the immune system, soothing damaged or irritated skin (when applied topically in a cream, poultice, etc), easing digestion, treating mild infections, and it even repels insects and helps with PMS symptoms!
How's that for a health bomb?
It's also a significant part of culture, as well. Interestingly, the marigold flower originated in Mexico, where we see it today in Dia de Los Muertos celebrations, for example. Then, after being introduced to India barely 350 years ago, it has become a staple of Dussehra and Diwali decorations, and can even be found in a Georgian spice mixture called khmeli-suneli. How cool is that?
On Adagio, we get to enjoy marigold in a variety of teas. Mocha Nut Mate is always at the top of my list. Do you have any idea how many folks have picked it up because it tastes like the most delicious latte— and you don't even need to worry about the barista messing up your order, because you can dress it up however you like. Oat milk, goat milk, gravy boat-milk. (Ok, I threw in the last one to make sure you're still with us.)
Turmeric Bliss is also a fantastic tea incorporating marigold for extra special healing potential. Turmeric is widely known as an anti-inflammatory in and of itself, so adding the benefits of marigold add complimentary compounds and colors to the mix. This is a great tea to keep in your pantry for harsh weather or nasty non-pandemic flu bugs.
And let's not forget about dessert! Rooibos Lemon Cloud is a silky tea from the rooibos blend family, perfect for after-dinner when you want to placate a sweet tooth and enjoy some of those anti-inflammatory and immune-boosting benefits at the same time. It goes great with those other milks and sweeteners, too. Why not, right?
Cornflower
Our next flower of power (not to be confused with the Princesses of Power, but I like the way you're thinking) is cornflower. If you have a soft spot for childrens' literature, Cornflower is also a character in the Redwall books. Since it takes place during an alternate medieval era that relies on herbal medicine, it's another great series to learn about herbs and herblore without reading stuffy textbooks!
As you can imagine from that preface, cornflower shares many of the same aspects as marigold: reducing inflammation, stimulating the immune system, and soothing tissue both inside and out. It also helps out the liver, as well.
If you're not already thinking of Earl Grey as soon as someone mentions "cornflower," then you'll sure start now! Adagio's Earl Grey Bravo, Lavender, and Moonlight are the way to go to explore this beautiful and functional flower.
Chamomile
And now I've saved the best for last— chamomile!
I'm particularly sentimental about this flower because chamomile is a big part of my Serbian heritage and culture. My dad would tell me about growing up picking chamomile flowers growing wild on the hills by the river in his village, and how his mother would store them for tea.
Due to its anti-inflammatory, healing action— yup, just like marigold and cornflower— my clients are also attached to this flower because it's a soothing, non-caffeinated beverage that also helps manage blood sugar, which is crucial for staving off cravings and crashing at the end of the day.
Adagio has wonderful options of this flower blended in the form of Cha Cha (It's like a party in your cup!), Foxtrot (You can add your own Whiskey and Tango, my friend), and of course, the straight-up Chamomile is always fabulous.
What are your favorite power-flowers?
Cheers!
Natasha Nesic
NASM Certified Personal Trainer and Nutrition Coach, Founder of Work Life Fitness