Drinks & Eats
Perfect Pairings: Tea and Chocolate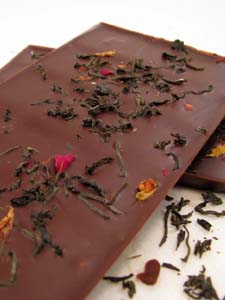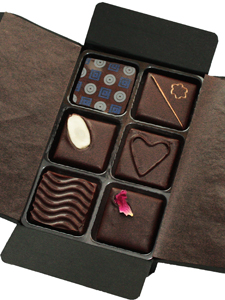 Tea pairs well with many foods, but one of the most heavenly combinations for tea lovers who happen to be chocoholics is, of course, tea and chocolate.
While experimenting with different flavor combinations can yield tasty results, there is something of a science behind knowing which varieties of tea will best complement which types of chocolate. The key is to consider the strength, depth, and subtle notes of the flavors you're pairing. Strong black teas like smoky lapsang souchong, for instance, pair well with darker, more robust chocolates, according to chocolatier Patricia Christopher, who owns Patricia's Chocolate in Grand Haven, Michigan, while lighter teas, such as Adagio's white peach tea and most rooibos blends, are better suited to milk or white chocolate.
A tea lover herself, Christopher created her own collection of six tea-infused chocolates. Her almond oolong flavor is made with a luscious dark chocolate ganache combined with Shui Xiang oolong tea, herbal red top clover, and almonds.
In a proper tea and chocolate pairing, the tea should not wash away the flavors of the chocolate. "You need flavors that will stand up to each other," Christopher explains. "If you take a bite of chocolate, and then you have a sip of tea, and you still taste the flavor of the chocolate, then you know it's a good pairing." Her favorite combination is Earl Grey with a dark chocolate — something around 61 percent or higher.
Quality Counts
To get the most out of your pairing, be picky about the quality of the tea and chocolate you choose. "You really need to use a good quality chocolate, something with a couverture, or a percentage," Christopher says. "That generally means it's made with cocoa butter unlike some of your less expensive chocolates that have hydrogenated oils in them." For a chocolate bar whose label says it's 85 percent cocoa, that means that 85 percent of the ingredients come from the cacao bean, and the remaining 15 percent is sugar, according to Christopher.
The cocoa butter from the cacao bean is what coats your tongue, capturing all those rich chocolatey flavors, so when you take a sip of tea, the taste of the chocolate enhances the taste of the tea, and vice versa. "Look for chocolate without hydrogenated oils, that's all cocoa butter — you'll get pure flavor that way," Christopher suggests.
Tasting Tips
Once you've chosen your chocolate and brewed your perfect cup of tea, it's time for a tasting.
For best results when pairing flavored chocolates with tea, follow the guidelines of the Lindt chocolate company's chocolate and tea tasting guide: "Slurp some of the liquid so that it sprays to the back of your mouth reaching the furthest taste buds. Make sure you breathe to take full advantage of the character of the tea. Swirl the liquid to coat your mouth and swallow, then take a bite of the chocolate." Sipping your tea prior to eating the chocolate will warm your mouth, allowing the chocolate to melt faster and evenly and making the tea and the flavors of the chocolate that much more savory together.
For chocolate with a higher cocoa content, the tasting process is reversed, according to Lindt's guide. You first eat the chocolate, and then you sip the tea so that the flavors of the tea will heighten all those rich cocoa flavors.
Think Outside the Cup
Pairing chocolate with tea doesn't always have to include brewing tea leaves. Pam Vieau, a chocolatier and owner of Chocolate Inspirations based outside Chicago, makes chocolate bars with dry tea artfully sprinkled on top to add both a decorative touch and a punch of tea taste. In fact, Vieau makes tea-topped chocolate bars for the Adagio Teas store in Chicago. One of her first pairings featured Adagio's peach oolong tea, which she says she immediately fell in love with when she first tried it, combined with milk chocolate. She also makes a milk chocolate bar topped with Adagio's vanilla oolong and almond oolong teas.
Aside from the bars she provides for the Adagio store, Vieau also makes nearly a dozen of her own tea bar varieties. Her Christmas tea bar, which is available in white or dark chocolate, is topped with a black tea blended with orange peel, cinnamon, cardamom, peppermint, spearmint, and clove. She also makes a raspberry rose tea bar, also available in either white or dark chocolate, that's sprinkled with a Sri Lankan black tea blended with raspberry pieces, blackberry leaves, rose petals, and Himalayan pink sea salt.
Unlike a pairing where you're sipping tea and eating chocolate to heighten the flavors of both, you're mostly getting the flavors of the chocolate when you're eating one of Vieau's tea-topped bars. "You do want the impact of the tea flavor to come through though," says Vieau. "You don't want to be eating a bar of chocolate and saying 'Oh, I kind of taste the tea somewhere.' You want to get experience the full flavor of the tea as well."