Enjoyment
Monthly Musings December 2007
Ho, ho, ho, Tea Lovers!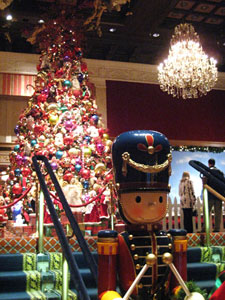 All I want for Christmas is my Ti Kuan Yin! The Holiday season has officially begun and we are hopping here at Adagio. We have unveiled our Gift Gallery for the season, to make it easier for the holiday shopper. These gift sets are specially priced and make a great gift for both the tea expert and rookie. Everyone on your list is covered: the TriniTEA for the family, glass mug and infuser for the workaholic, the IngenuiTEA for the college student- get all your shopping done in one place!
The holidays can be a stressful time of year: traffic, shopping, long lines, and the quest to find the perfect gift from the pick person on your list. However, I hope everyone will take some time away from the hustle and bustle that the holidays inevitably bring to enjoy their family, friends, and loved ones, Recollect family traditions or start a few of your own. and also to help others in need. The smallest gesture, such as collecting coats for a coat drive, volunteering at an after-school care program, or even sharing a cup of tea with your elderly neighbor will make a difference in somebody's life.
Remember to take some time off for yourself, as well! My favorite time of day is drinking a big cup of a soothing herbal after dinner and looking through a book or magazine. If you're picking something out for a friend on our website, don't hesitate to pick up a couple of samples for yourself. Tea does the body and mind good!
From all of us at Adagio Teas, we want to thank everyone for their continued patronage and enjoyment of our teas. We wish you all a happy and safe holiday season!
Yours in tea,
Christine