Culture
Senegal Tea Culture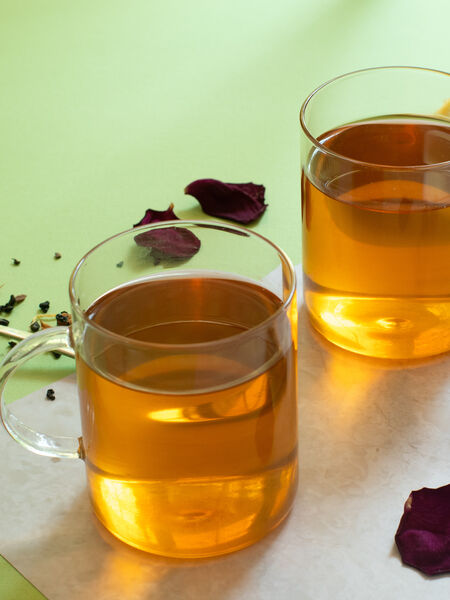 Gunpowder Tea, Mint, and Socializing
A French colony until 1960 when it won its independence, Senegal's main language is French, although both Arabic and its 39 tribal languages can be heard everywhere you travel from its unique savannas to the desert to the popular North Atlantic coast.
The two languages that are not spoken are Portuguese and Dutch, which is interesting; Portugal's trading with this West African nation began nearly seven centuries ago, in 1440, followed by traders from The Netherlands. It is quite possible that these 15th-17th century traders brought tea to this country or it may have been many Arab nomads cruising the Silk Roads of yore.
The Ceremony of Ataya
No matter who introduced them to tea, the Senegalese whole-heartedly embrace a definite sweet-tea culture centered around green tea and mint. The tea is usually the assertive Chinese gunpowder, known for its round pellets of green tea leaves. It is blended with sugar (a prominent crop in the country) and fresh mint, a nod to Moorish/Arabic influences of those long-ago traders.
This tea-drinking experience is known as ataya a word from the Wolof tribal language that means "the art of making tea" is also spelled as ataaya or attaya. Senegal's neighbors, Guinea, Gambia, and Mauritania, as well as Morocco, have similar tea-drinking customs. Adagio's Gunpowder is available in loose leaf, teabags, and single-serve loose leaf packets.
Wherever you go, ataya will be offered along with a warm greeting for hospitality is as natural as breathing to the Senegalese. A small metal teapot (brada) is set upon a charcoal or gas burner or small grill (fuurno.) Water, gunpowder green tea, and fresh mint leaves (nana) are added with some sugar. The mixture is brewed to a strong and bitter taste then the Senegalese host pours the tea back and forth between the teapot (brada) and small glasses (kas) until a thick, foamy layer forms. Adagio's version of this blend is Casablanca Mint.
Some hosts will pour the tea back and forth between the glasses until the foam coats the glasses then return the tea to the pot.) The pours, whether from glass to glass or teapot to glass, are always dramatic, done from a height of 12-18 inches, providing a theatrical rain of tea.
This process is repeated at least two more times, with the addition of fresh mint leaves and increasing amounts of sugar which enhances the foam the Senegalese believe cannot be too thick or too sweet. Mint pastilles, a sweet lozenge of mint paste, are a welcomed substitute for fresh mint and easily melt in the hot tea, or you can dissolve them in your mouth between sips of tea. It is alleged that the fluoride in green tea provides protection from dental caries that might occur from imbibing such a sugary drink.
The Three Concoctions
These three servings, known as the "three concoctions," are lewel, the bittersweet first glass; naarel, the sweeter second glass, and nettel, the third glass, intoxicatingly sweet and minty, has no bitterness because the tea leaves are spent, all their astringency and stimulants, gone.
Folklorists believe these three glasses signify the three stages of life: bitter for the challenges of early life; sweet for midlife, love, and family, and sweetest, for the wisdom and comfort of old age. Because the socializing with friends is so highly valued among the Senegalese, the three concoctions are sometimes described as the increasing sweetness of friendship that grows closer and more lovely over time. Another interpretation is that the first cup represents the sweetness of mother love, the second of the love between friends, and the third, and sweetest, the love shared with your spouse.
Ataya is usually served after a meal and is an essential form of hospitality. At times, it is used to encourage the relaxation one experiences with meditation and yoga or as a backdrop to the oral traditions of griots, the famous Senegalese storyteller-troubadours who play a long-necked, lute-like instrument of many strings while they sing or relate stories true or apocryphal. With chatting and entertainment and relaxing, it is not uncommon that ataya might take two-three hours!
For those laboring in the sweltering heat, ataya offers a more prosaic purpose: much needed rest and refreshment and an energy boost (from the sugar) to complete their tasks.
Try Tea the Senegalese Way
You don't need to visit Africa's western-most country to enjoy ataya; you can experiment with this recipe at home. While you sip, imagine feeling the breeze from the North Atlantic Ocean cooling you as you gather friends and family love around you.
Ataya Tea Recipe
INGREDIENTS:
4-5 teaspoons of loose leaf gunpowder green tea (use 4 teabags if you prefer)
1 cup (8 oz.) plus 1 tbs. water
1 cup granulated white sugar
6-12 large leaves of fresh mint or to taste
Fresh spearmint is also delicious or blend in Adagio's Spearmint.
DIRECTIONS:
Boil tea and water with fresh mint and pour back and forth between teapot and glasses until a form appears. Add more water, mint, and sugar each time but do not add more tea.
No tiny glass kas? Go big - - with Adagio's 14 oz. glass mug.