Profile
Introduction to CBD Tea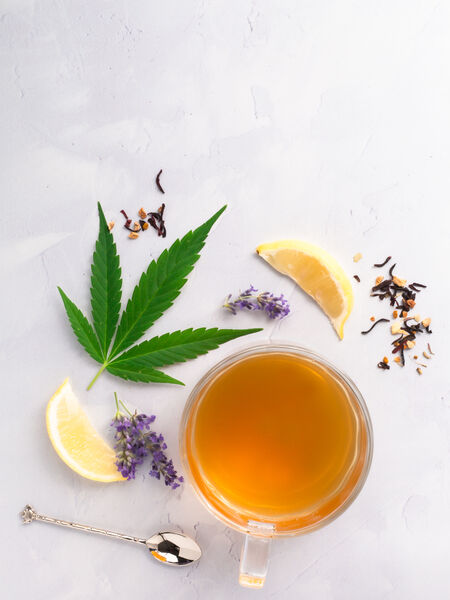 CBD as an Ingredient for Wellness in Teas & Tisanes
The beverage and food industries are abuzz with the possibilities for offering foods and beverages with cannabidiol, the non-psychoactive element derived from the hemp plant. More commonly known as CBD, it has well-substantiated therapeutic benefits and does not have THC, the ingredient in cannabis which makes people high.
How Does This Work?
The CBD is carefully extracted from natural hemp leaves, converted into a powder or oil, and added to pills for therapeutic purposes, creams for topical applications, and in foods and beverages.
The CBD oils do have a distinct taste but the powders have none and are also colorless and odorless. Because they're water-soluble, they mix well with liquids, and increase the bio-availability of CBD, allowing it to enter the bloodstream quickly, easily, and with no negative side effects, making it the industry choice to use with foods and beverages.
Recent medical studies show that adding CBD to teas and tisanes may also help fight obesity, cancer, epilepsy, and cardiovascular disease. What other studies have also shown over the years is that CBD can improve mental clarity, aid physical energy, and enable you to destress without the concerns often attributed to many prescription drugs.
CBD may help to reduce pain, anxiety, and possibly depression; reduce muscle cramps, joint aches or sprains; improve your digestion and overall gut health, and most importantly, provide better, deeper sleep. The result? You'll be better rested, have more energy, and be able to focus more sharply on the tasks before you.
Where are Adagio's CBD Teas?
The FDA is continuing to evaluate the regulatory frameworks for products containing cannabis-derived compounds. Adagio plans to release their CBD tea once these frameworks are completed so they will comply with all FDA guidelines. So if you've been waiting their launch, keep an eye out for guidelines from FDA. Once those are out, Adagio's CBD tea won't be far behind!
The Four Introductory Blends
Adagio has taken the lead to create four outstanding recipes to introduce CBD tisanes and teas to their Wellness range. They opted to use a CBD powder because it disintegrates easily and helps to release the therapeutic advantages of the plants, flowers, and flavorings used yet does not alter their flavors or fragrances. To enhance your CBD beverage experience, we suggest drinking them with food or a snack and adding a bit of honey to accentuate the mélange of flavors.
Adagio's blenders have artfully combined tea with CBD to elicit the benefits of water-soluble 100% THC-free Broad Spectrum CBD combined with our stunningly crafted teas and herbals. Adagio offers two selections with exceptional herbals which are caffeine-free. The mixture of tisanes with CBD provides a natural adaptogenic reaction to reinforce the plants' natural relaxing properties. One is technically considered an herbal, but contains a bit of mate to constitute it as low caffeine. Their fourth selection is a prized Camellia sinensis processed as oolong; it has low levels of caffeine, perfect for morning or afternoon enjoyment.
CBD Mellow Mint takes advantage of both peppermint and spearmint leaves to be gut-friendly, and the coconut and lemon grass add a yummy edge. One cup of hot Mellow Mint before bed will make nodding off easier, quicker, and give you a tomorrow that's imbued with alertness, focus, and energy because there's no caffeine.
CBD Restful Night embraces two flowers well-known for inducing sleep: lavender and chamomile. The CBD powder, of course, enhances the blend as a sleep aid. To add to the flavorful taste, we included peppermint, rose hips, and vanilla, and a foundation of anti-oxidant-rich Rooibos Tea from South Africa, none of which have caffeine.
CBD Mate Chai is a lively taste sensation with toasted Yerba Mate as its foundation spiced with ginger, cinnamon, cardamom, cloves, black peppercorn and a zing of lemon grass. This is a perfect afternoon drink to push you through any task or obligation for the day with zero jitters from the low caffeine.
CBD Happy Buddha is just like the 10th century monk himself: sweet, beautiful, and full of joy. This is a CBD recipe with an aromatic, delicious oolong accentuated with cocoa nibs, chicory, coconut, vanilla and caramel flavors, dotted with the visual artistry of blue cornflowers. You'll find yourself smiling with contentment at the abundance of pleasure it gives you plus the healthful benefits of tea's natural antioxidants.